One of the things that we who love decoration most are the before and after. The look changes of the rooms in a house are exciting and especially when they are renovations without works that they achieve really cozy spaces with small changes that we can easily make by ourselves.
Today we bring you one of those focused on the bedroom, the most important room in the house on a personal level, for its privacy and because it is intended for relaxation and rest. If we want our room to be our refuge, our place of comfort in which we always feel comfortable, it is important that we pay attention to how we decorate it and that we strive to change everything that can be improved on it.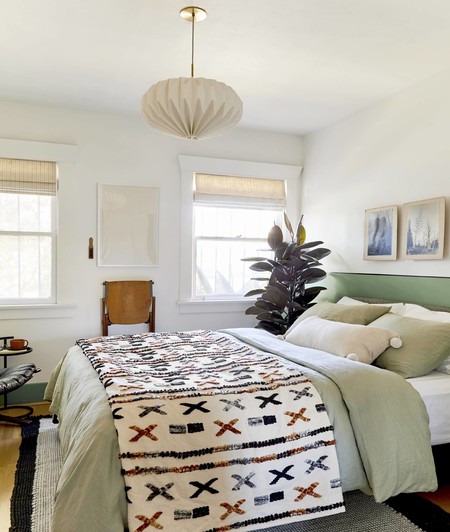 In this before and after, as we have already said there are no works, just some painting, a radical change of textiles and the incorporation of a lot of details which are what make the room become a sigular space. Although there is a global guiding thread of the reform in the search for light and comfort, I use light and refreshing colors that contrast with the warmth of the wood. etc … It is evident that furniture and decorative pieces have been acquired mostly independently.
Sometimes we become obsessed with buying all the accessories and complements of a room at the same time and matching it and it has been a long time since it is not about that, but quite the contrary. They are trend mixtures, articles and even style, the contrasts of colors and materials, which are the ones that create really special and different results.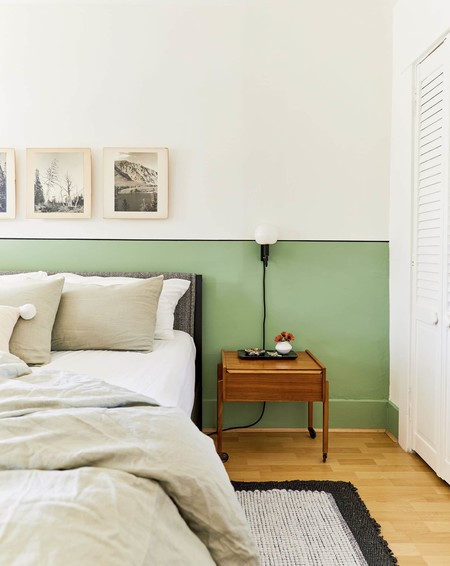 He green sits up, not just on the door and subtly in bedding, but also in a part of the wall where the headboard is located. It is combined with white, because that allows the luminosity in the room to be multiplied and taking into account that the room is not too large and that it only receives natural light during part of the day, the clarity in the set of color, green and others, It is important.
As we have already mentioned, the main value of this bedroom is in the set of decorative details that make up your style so personal, as each of them has their story. They are not decorations bought to fit the room, but items bought to the taste of the owner of the house or on her impulse on a day of shopping and that one by one have been adding interest and personality to the room.
This reminds us how important it is that everything we surround ourselves with evokes memories, tells us a story or helps us generate good feelings. No need to aim for a catalog bedroom from a furniture store, not even a magazine, you should always try to create a bedroom own, particular and unique and this is achieved by choosing with care, or at random, but one by one all the details that make it up.
Track | Emily Henderson
In Decoesfera | Before and after: from an old and dark office, to a light-filled bedroom with a study or work area and Seven aspects to consider if we want to renovate the bedroom, starting with the orientation