We have spent many hours at home this year and we have cooked beyond our means. So many of our kitchen "pots" have to pass away and let's not talk about the glasses and plates that have been left on the road with chips or directly crushed. It is the perfect time to be practical and renew them. We have found great deals on Amazon and El Corte Inglés that are very worthwhile.
Pots and pans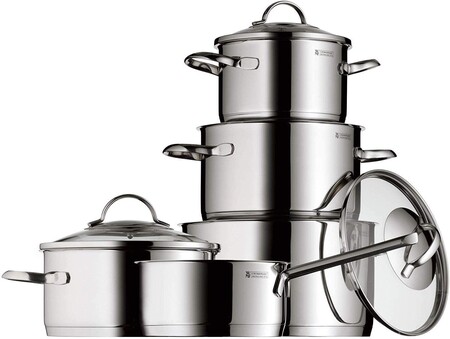 This fabulous stainless steel cookware from one of the best brands on the market, we found it on Amazon for only 87.99 euros instead of 113.85.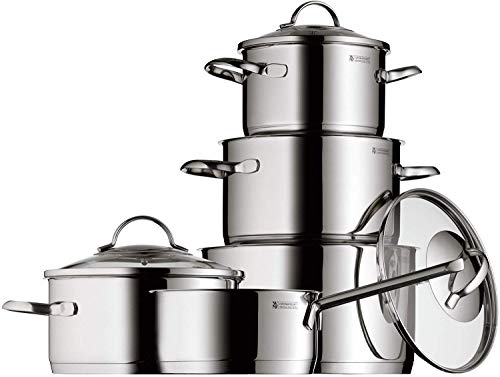 WMF Provence Plus – Cookware, Cromargan Stainless Steel, Glass Lids, Suitable for All Kinds of Kitchens, 5 Pieces
If your pans have not kept up with the rhythm of your kitchen in confinement, these are the best on the market and the price is very good. The 16, 22 and 26 cm set: At Amazon, 46, euros.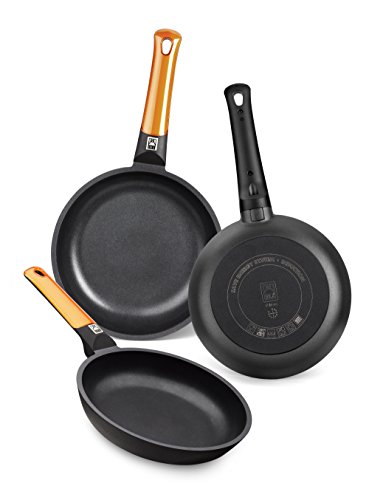 BRA Efficient Orange – Set of 3 pans, cast aluminum with PFOA-free 3-layer non-stick, for all types of cookers including induction and glass-ceramic, dishwasher safe, 18-22-26 cm
If you want to spend less, another Black Friday offer also from BRA: this set of three that costs only 25.50 euros instead of 45.50.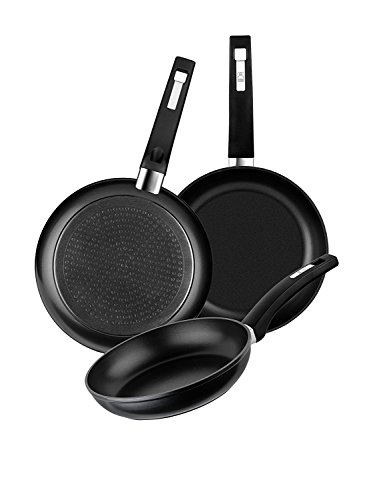 BRA Set of 3 forged aluminum pans with non-stick, 18-22-26 cm, suitable for all types of cookers including induction and ceramic hob
The plates have suffered a lot from this confinement. This is high-end, made of stone and has lowered its low price from 27.50 euros to 23.10 euros on Amazon.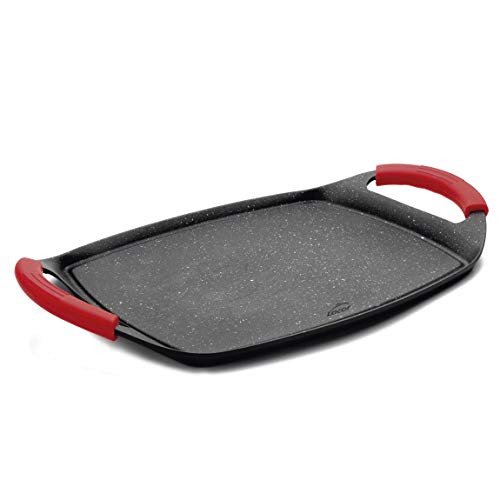 Lacor Plancha Grill Eco Stone, Aluminum, Black, 25'5 x 20 cm
Express pots last for years and years and are a great buy for winter stews. If in this time, you missed one, this offer of the BRA pressure cooker in El Corte Inglés is highly recommended for 48.95 (usually 69.99).
Kitchenware and knives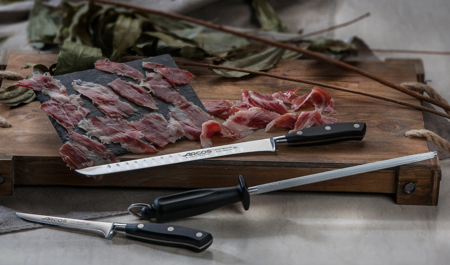 The ham knife that is worth renewing this year because Christmas at home has to be celebrated with the best, whether we are 6 or we are 10, will require the renewal of the tool. With this discount, it is worth it. In El Corte Inglés for 28.65 euros instead of 41 euros.
To renew the steak knives (it is also something pending very often), we have found this offer from Arcos that is one of the best brands and that is on Amazon the set of six for 28.99 instead of 56.11.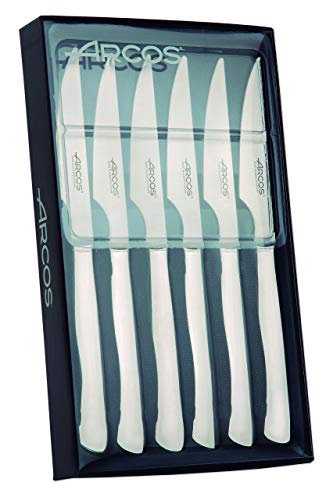 Arcos Series Table Knives – Set 6 Units Steak Knife – 110 mm Stainless Steel Edge Blade – Silver Color Stainless Steel Monoblock Knife
A good brand of cutlery for our table every day is Monix Siena. This beautiful one is on sale and costs 24.99 instead of 33.30 on Amazon.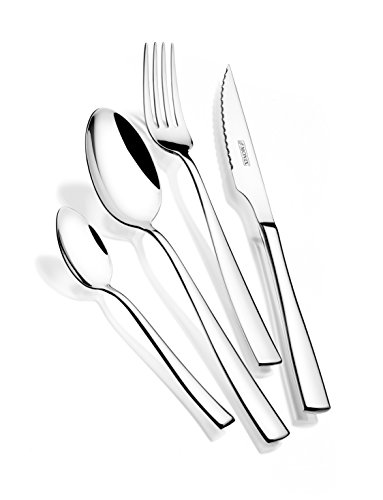 Monix Siena 24-Piece Cutlery Set with Steak Knife, 18/10 Stainless Steel, Contemporary Design, Bright Polished Finish, 3mm Thick (6 People)
Tableware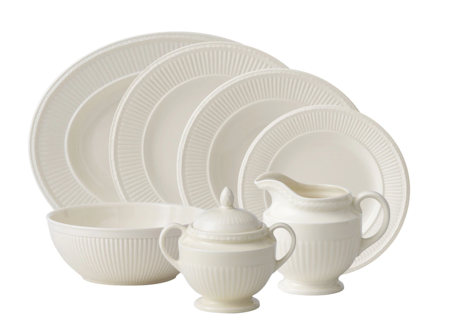 If you are looking to invest in a simple tableware with classic aspirations and for the Christmas and party table, this one by Edme Wedwood is wonderful and has a 30% discount at El Corte Inglés. For example, his cup and saucer cost 29 euros and now it is for 20.
Tableware by pieces: coffee cup and saucer
A very inexpensive everyday tableware (and you don't have to confess how many dishes you have broken in confinement) that has various Black Friday offers, is this one from Luminarc, white, but with a special touch thanks to its fluted shapes. For example, this dinner set for six with cutlery included costs 49.77 instead of 63 euros.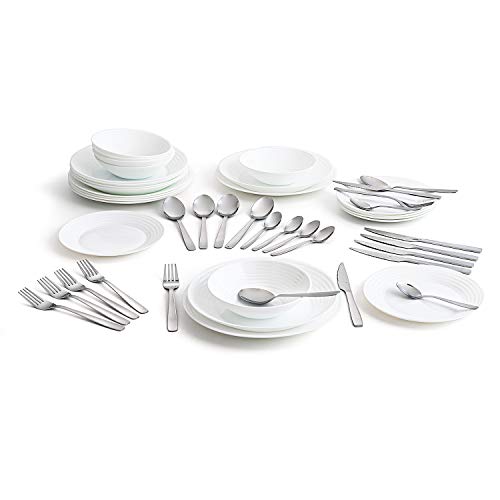 Luminarc Complete White Dinnerware for 6 People Cutlery 24 Amefa, Opal Glass, 25 Pieces
If you want a good, pretty and cheap one, this is modern and can be used for everyday, or to set a very nice table when you have guests and there are in various colors. It is on Amazon and its price is 47 euros instead of 57 euros.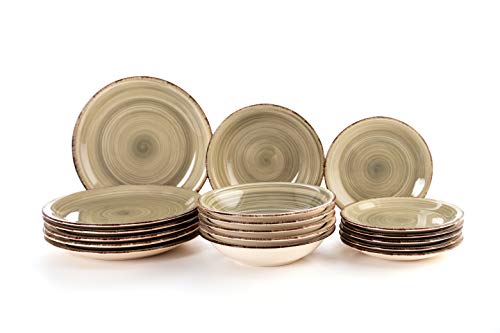 Quid Complete Modern Porcelain Dinnerware for 6 People (18 Pieces) Plain, deep, Dessert Plates, Stoneware, Pearl Gray
More Black Friday Deals
If you join Amazon Prime, you have a 30-day free trial (after 36 euros a year) to enjoy free fast shipping, priority accessory to offers, services such as Prime Video, Prime Music, Prime Reading and unlimited photo storage. Also, if you are a student, make Prime Student It costs half and you have a 90-day trial. You can be up to date and at all times informed of the main offers and news from Xataka Selección in our Telegram channel or in our profiles. Twitter , Facebook and Flipboard magazine.
You can also take a look at the bargain hunting Vitonic, Direct to the Palate Y Jared as well as with our colleagues from Compradicción. You can see all the bargains they publish on Twitter and Facebook, and even subscribe to their ads via Telegram. You can also find here the best Black Friday 2020 deals
Note: some of the links posted here are from affiliates. Despite this, none of the articles mentioned have been proposed either by the brands or by the stores, their introduction being a unique decision of the team of editors.