If we think about our salons from long ago and the salons of today (-regardless of the size of the television-) it can be said that the protagonist of the new salons is the chaise longue sofa which has become the most desired piece of recent times.
Where before a comfortable and comfortable sofa was enough, now we need a comfortable and comfortable sofa-chaise longue.
That the difference may seem minor but it is not because it is a matter of space. In fact, I know people who have given up rental apartments (with how difficult it is to find a flat in big cities), just because in the living room they couldn't fit their chaise longue.

And, although we do not question the comfort and versatility of this piece, the chaise longue sofa should adapt to the space and distribution of the living room and not vice versa. But we understand that if the investment in the chaise lounge sofa has been high, let's find the right place for it.
In any case, what is not lawful is to place the chaise longue sofa cutting off circulation or the steps to the terrace, to the dining room, even to the living area. Or that it is so large that the living room hardly admits more furniture.
Here we give you some tips on when and how it is convenient to place the chaise lounge sofa.
Very narrow rooms
A chaise lounge sofa can be placed if the corner of the chaise lounge takes advantage of a corner of the back wall. If the sofa is very narrow and the chaise will remain in the central part, it would only be possible to interrupt the passage even to the sofa itself. There should be at least 75 cm of passage (between the chaise lounge and the wall)
The alternative for very narrow rooms is to use a very long but shallow sofa that can make the most of the room or better; use a chaise longue with a shorter bottom (you do not need more than 1.50 long) to lie down very comfortably.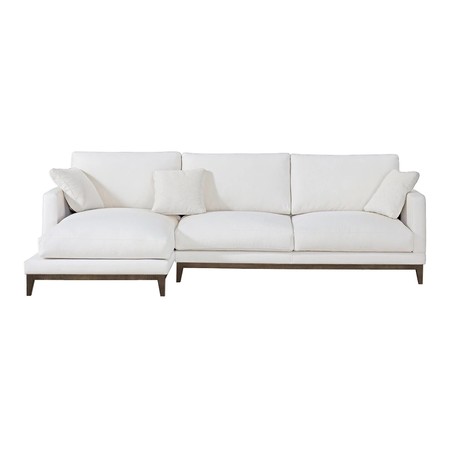 Still on sale, 5-seater sofa with left chaise longue and wenge base Breda El Corte Inglés with a 15% discount. Price before € 1,395 price now € 1,179
5 seater sofa with left chaise longue and wenge base Breda El Corte Inglés
Square lounges
Can zoning the living area with the chaise lounge but better than a sofa with a chaise lounge it would be better place an L-shaped sofa, with backrest throughout its route (the difference with the chaise lounge) that will invite you to meet while not giving up the comfort of being able to stretch to taste.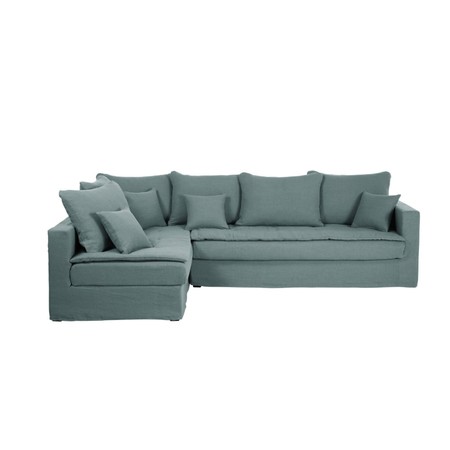 At Maisons du Monde, this Celedon blue linen 5-seater left corner sofa by € 1,299.00
CÉLESTIN- Celedon blue 5-seater linen corner sofa in left
Very small rooms
Better give up the chaise lounge but if you don't want to do it at all, opt for some model with extendable seats. Although they are more expensive, it will be worth it to take advantage of the space.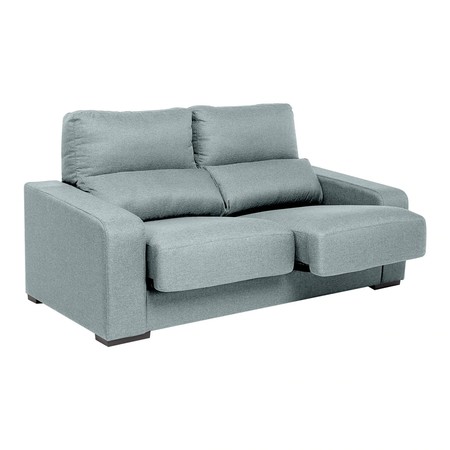 A sofa with sliding seats so you can gain comfort from El Corte Inglés by € 675
Bass 3 seater upholstered sofa
Living rooms with two living areas or where there is another living room
In a very large living room with two living areas or with a separate living room It is convenient that one is more social and meeting in which it is better not to have a chaise lounge but two sofas arranged facing each other or in L, to look and be more comfortable.
Of course, in the living room or living room, the chaise lounge sofa will be your best companion to comfortably enjoy your favorite series.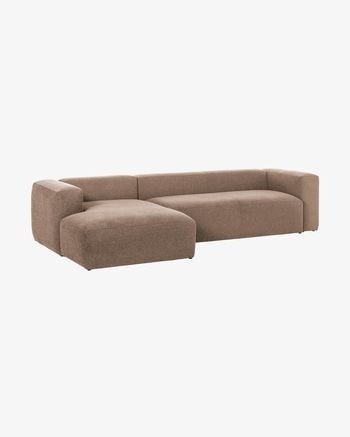 De Kave Home Blok 3 seater sofa chaise longue left pink 330 cm price before € 1,519 before € 1,443.05
Blok 3 seater sofa chaise longue left pink 330 cm
Nestspace Desing Studio project Hey Cheese cover image
Similar in Decoesfera | Summer 2020 sales: the sofa beds with the best discounts
Trends for the salon; looking for a warm and enveloping decoration that makes us feel good