The choice of accessories in the bathroom They can raise and round your design or, on the contrary, spoil the bathroom set. Mirror It is one of the most important accessories in a bathroom, partly because all eyes are inevitably directed and because it supports the sink area.
Your choice deserves the same detail and care as the choice of tiles or furniture. The mirror is also the fundamental piece of the vertical decoration of the bathroom (with permission of the wallpapers and shelves) and is a piece that must fit in terms of style and shape with the chosen bathroom.
A very frequent mistake when it comes to bathroom mirrors is to quickly place any mirror we have on hand, waiting to find the right time to change it. Something very common especially when we premiered a new construction house, with full bathrooms lacking only accessories such as the mirror.
If this is your case you should be thinking about changing it as soon as possible because it is worth it complete the bathroom with a trend mirror that brings style and good design to the bathroom.
In addition to the trends, which should always be taken into account when choosing any complement, the style of the bathroom will also condition your choice.
As to the trends take small mirrors, or at least narrow that leave hollow to apply or hanging lamps with which to illuminate the sink completely. Also curves in the form of round mirrors or mirrors with rounded corners They compensate for vertical and horizontal lines of tiling and other straight elements of the bathroom.
Mirrors for industrial style bathrooms
White tiles, black joints and screens with black profiles usually integrate industrial style bathrooms, a trend that stands the test of time well.
In industrial style bathrooms it is best to choose a mirror that also has a black or beveled profile and hangs from a chain, barber style.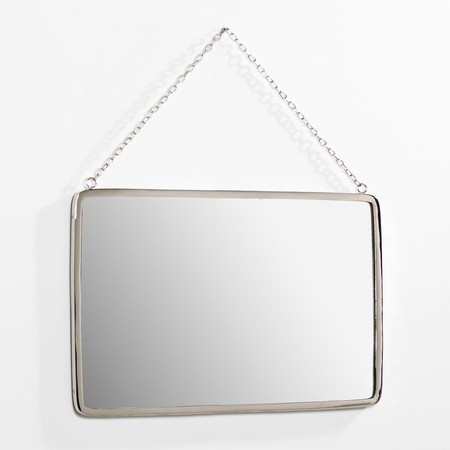 La Redoute Interiors. Straight mirror. an. 50 x H 37 cm, Barbier with a 30% discount price before € 109.00 price now € 75.99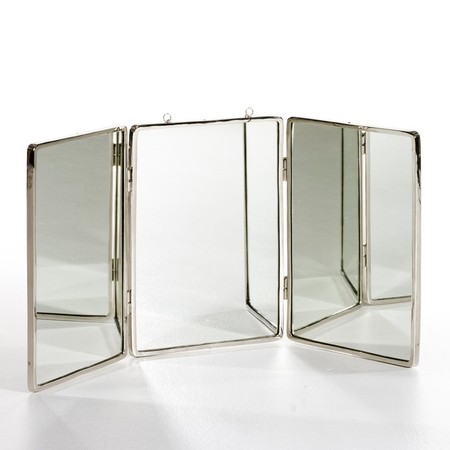 La Redoute Interiors. Large mirror Barbier model triptych width 112.5 x height 51.25 cm, for wide washbasins with a -30% discount price before 309.00 € price now € 215.99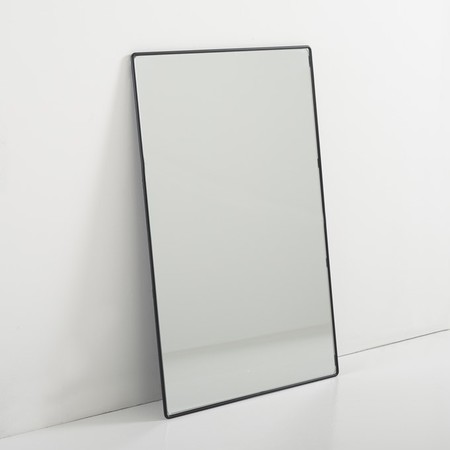 La Redoute Interiors. Mirror Bertilie 60 x 90 cms 23% discount price before € 155.00 and price now € 118.99
Small bathroom mirrors
Small bathrooms need all possible solutions to have extra storage. In these cases they are very useful lmirrors with shelves or incorporated into a small closet.
Tikamoon Industry style metal mirror with shelf included 70X50 LISON 79 €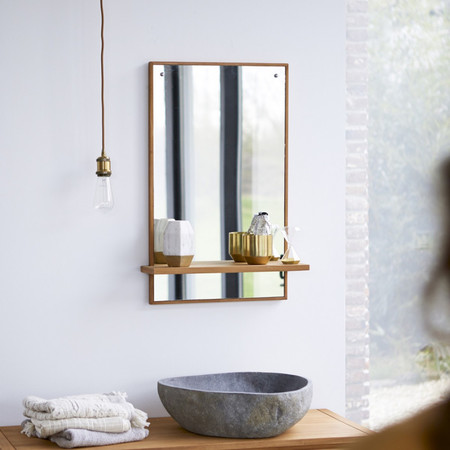 Tikammon Teak mirror Galyno 75X45 99 €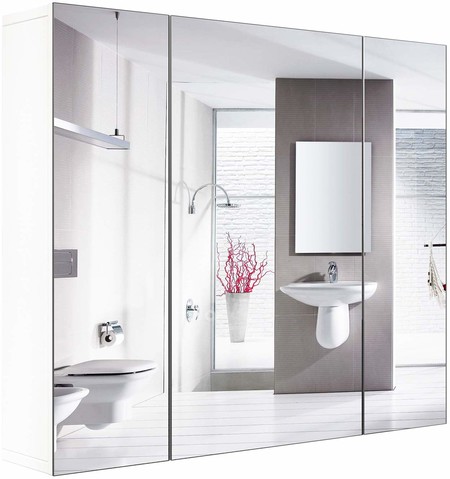 Amazon Homfa Bathroom cabinet with mirror Wall cabinet with 3 doors 4 compartments 70x60x15cm 60.99 euros
Natural style bathroom mirrors
Natural style bathrooms with stone, wood or microcement walls are well mirrors with wooden contours instead of metal or even rattan. Also the rope marries well with this style of baths.