A well designed bathroom is that one does not miss anything. And here the size does not matter. No matter how big it is, if the toilet paper (that staple product) has to rest on the toilet, and the washbasin towels, on it, the bathroom will look messy and impractical.
Going through the bathrooms of some of the best houses that we show you in our section on -open doors-, I realize that many bathrooms lack this type of accessories. Something that may be partly due to the fact that they are newly renovated spaces and placing these accessories, perhaps (I hope) will be done after the photo session. In the case of publishers, unless they are going to sell roll holders, towel racks and hangers, they conscientiously omit them. Voucher. It may not be the most aesthetic element but they are very necessary.
The two previous images are examples of bathrooms in which the towel rail and the toilet roll holder are missed, respectively.

At the beginning we referred to the size of the bathroom. If large bathrooms should not present problems about where to place these accessories, small bathrooms can raise doubts. Because we will always prefer to lengthen the sinks or enlarge the shower to leave a specific hole for the towel rail.
The roll holders
until japanese toilets be the norm in our bathrooms, the roll holder should not be missing. Each time of lighter design, it is necessary to try to place them to the right of the toilet if possible, always at a comfortable distance for the hands. If possible on one side and if not possible, the same wall on which the toilet rests.
Many times, instead of a wall, we find the washbasin cabinet and we should not be afraid to place the roll holder there. (Bottom photo). It is as good a place as a wall.
With the theme of the roll holders, the good news is that their designs are becoming lighter and more discreet. The new triangular models do not look like a roll holder and the bars allow the roll to be placed horizontally or vertically (if the space is very small at times, it can only be placed vertically.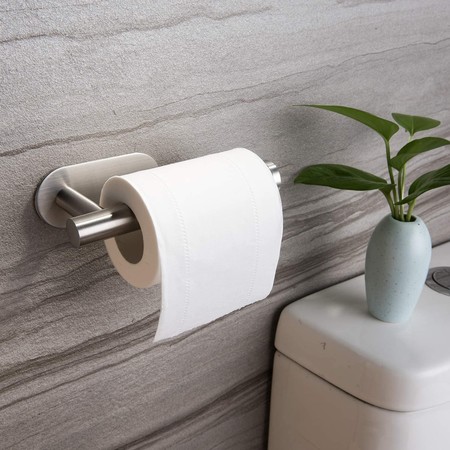 This self-adhesive model (without nails) is discreet and simple and this week has a special discount with a 30% discount. Price before € 10.99 Offer price € 7.64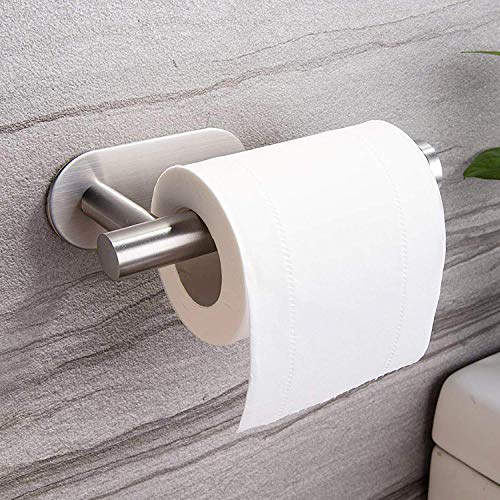 ZUNTO Stainless Steel Bathroom Roll Holder – Self-adhesive Toilet Paper Holder For Bathrooms
In gold, it serves as both a roll holder and a hand towel rack, made of brushed brass € 17.56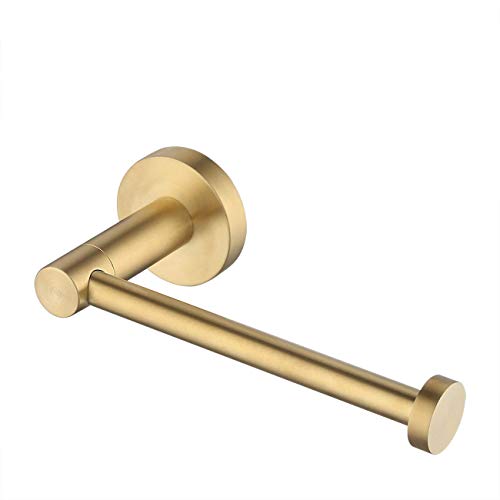 Umi. by Amazon Toilet Tissue Roll Holder Toilet Paper Towel Holder 304 Stainless Steel Wall Mount Brushed Brass, A2174S12-BZ
Bran Bran toilet roll holder, black € 25
Washbasin towel racks
The Sink towel racks should be close to the sink. This is almost the only standard that they must comply with because they can be placed at the height of the sink, on one side if there is a gap, but if there is not, they can (and should) be placed elevated.
The raised towel rails on one side of the sink are very comfortable and with these examples, you will be convinced that they are a valid and aesthetic option for your bathroom.
Raised wall towel rack above the sink. In this position you have to be careful with the plugs because they are often placed in this area. Try that plugs are above or below and above all, take this into account when designing the bathroom.
In brushed gold for classic or sophisticated bathrooms for € 20.01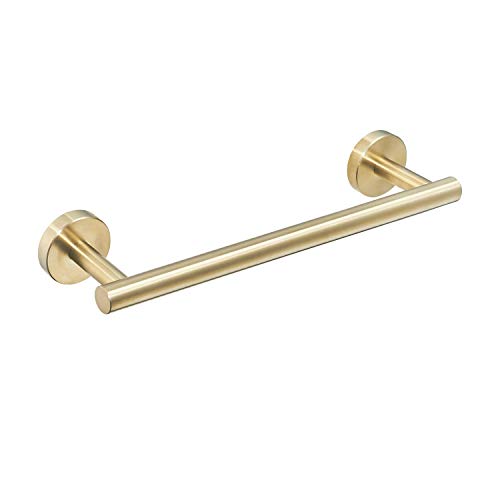 Beelee 12 "Stainless Steel Bathroom & Kitchen Towel Rack, Wall Mount, Brushed Gold, BA195A3G
In white, this bathroom also takes advantage of the shower wall for installation.
30cm blank, self-adhesive stainless steel wall-mounted towel rack (no Drill needed) € 21.99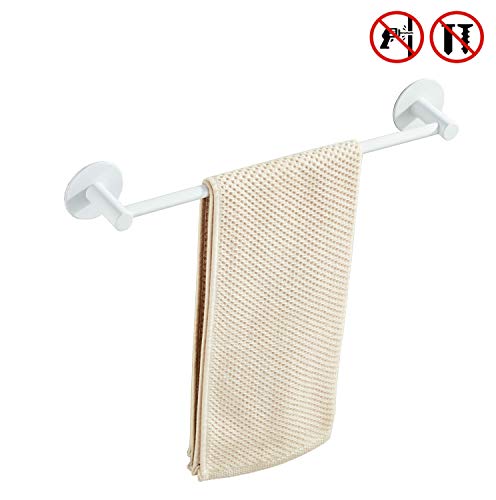 Kelelife 30 cm Drillless Stainless Steel Wall Towel Rack, White
In this image, the washbasin takes advantage of the entire width of the wall and in the upper part, wall lights, mirrors and towel rail share (with harmony) the space.
At Amazon Basics this round satin nickel towel rail has for € 9.09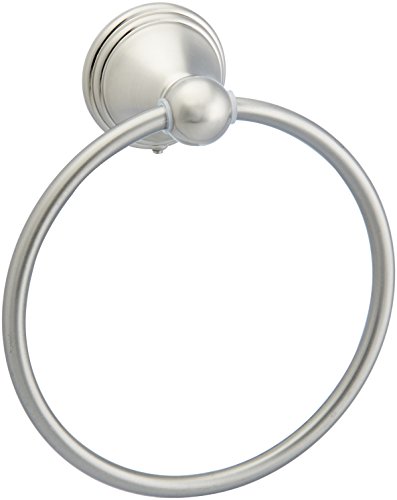 AmazonBasics Modern Round Towel Rack, Satin Nickel
The option in black.
Three-piece set of bathroom accessories; Towel bar, toilet paper roll holder, and towel hooks in black finish from € 35.57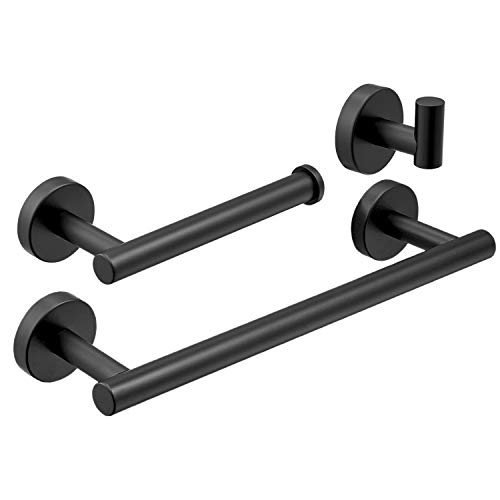 Beelee Wall Mount 3 Piece Bathroom Accessory Set, 12 "Stainless Steel Towel Bar Toilet Roll Holder Towel Hooks, Black Finish, BA19500SET-3B
The sinks with built-in towel rail
A two in one, they are the sinks that incorporate towel racks, in a more or less discreet way. The market offers many options.
Kuveni 60 x 92 cm wall-mounted bathroom cabinet
This of Maisons du Monde of industrial aesthetics incorporates a bar on its side from 350 €
HARVEY. Washbasin cabinet with 3 drawers and 1 door in fir and metal
Another way for your sink to include a towel rail is through models that are built into the side like this one. Stainless steel bathroom towel rail to mount on the wall 40 cm. Previous price € 15.99 phard now € 14.99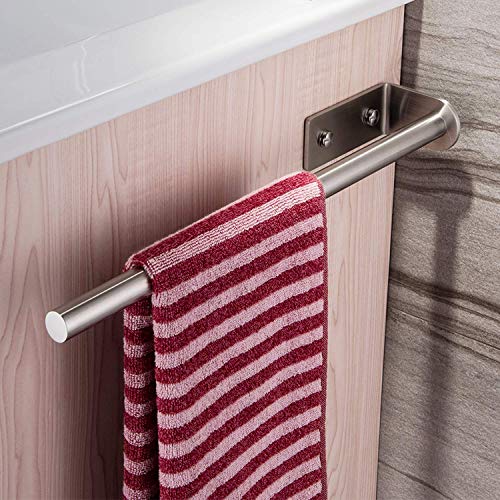 ZUNTO Towel Bar Bathroom Bar Stainless Steel Wall Mounted Towel Bar 40CM
Cover image of Lola Home Design Via Remodelista
Similar in Decoesfera | Seven complements and accessories that you can include in the bathroom, even if they are not designed for the bathroom
Ikea catalog preview 2021: this is our selection of novelties for the bathroom