One consequence of teleworking – of which little is said – is that it has also changed our relationship with the kitchen. Before confinement and teleworking, there were many people who barely stepped into their kitchen. If you are one of those who had breakfast and ate at the office, you will have had a new relationship or bond with one of the most important rooms in the house. Many have realized its shortcomings and renovating or updating it is among their objectives for this course.
When facing the reform there are many things that condition us. as its distribution. Elongated kitchens, square, with or without an island … each one has its peculiarities and if elongated kitchens may have little worktop, in the "L" ones you have to be very clever to make the most of the corners.
Small kitchens need more attention . Although in Decoesfera we are fans Ikea modular kitchens or Leroy Merlin, if the space is small and, above all, if it has measurements and an irregular configuration, it is better to go to a kitchen studio that will design custom furniture that would not cover the standardized modules.

In any case, trends affect all equally and in addition to the trends when designing kitchens you have to choose styles.
Because the kitchen of an apartment in Madrid is not the same as in a house in the town or in a summer apartment. This does not mean to say that since the kitchen is in a town, you have to choose a rustic style, but if it would be appropriate to include warmer and more classic details than an urban kitchen.
Seven trends to consider when designing the kitchen:
More height and more depth in kitchen furniture
The height of kitchen cabinets ranges between 82 and 92 cms. Unless at home you are very short, integrate betting on a height of 92 centimeters. A very ergonomic height to work with and with which capacity is gained in the lower cabinets.
Its bottom can also gain centimeters, from 60 to 62 or 65 cm, to give more surface area (a good idea when for kitchens with one front) and to be able to "hide" appliances such as washing machines etc … behind a comfortable and aesthetic door.
Kitchen hoods become discreet and now go unnoticed
We have spent a few years in which range hoods became an important design element in the kitchen. His avant-garde designs attracted all eyes, something that is now avoided at all costs. Their designs are hidden flush with the ceiling on kitchen islands, or hidden in the countertop (retractable hoods are becoming more and more common).
Built-in extractor hood with Carbon filter CBCF005 Width 52 cm Capacity 300 m³ / h of Stainless steel per € 109.99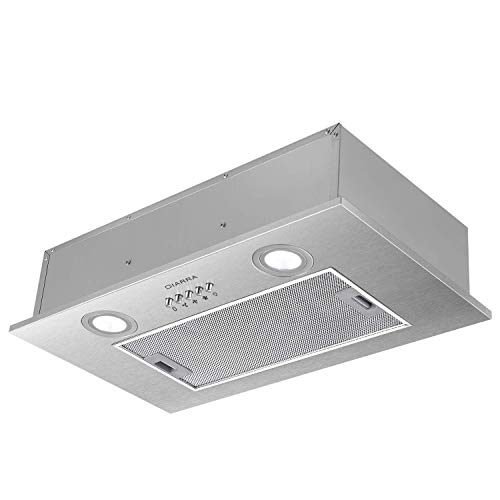 CIARRA CBCS5913A Built-in Extractor Hood Evacuation to the outside and internal recirculation by Carbon Filter CBCF005 Width 52 cm Capacity 300 m³ / h Stainless Steel
In return the taps gain prominence, in finishes such as brass, black, white … but always big and beautiful.
Black swivel spout bathroom mixer kitchen sink faucet € 51.49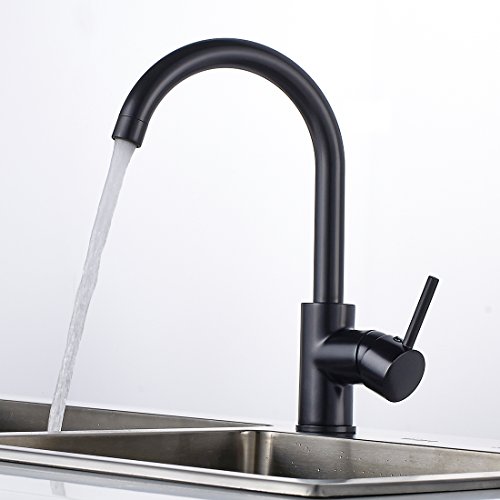 Gimili Faucets Kitchen Sink Mixer Bathroom Swivel Spout Black
Hide or hide appliances
On the one hand, electrical appliances are increasingly taking care of their design, but on the other, kitchens hide them behind doors, especially when it comes to kitchens that are fully or partially open to the living room.
The backsplashes of the same material as the countertop
Of course, one of the most established trends is to extend the worktop to the dashboard.
A hole for breakfast
Breakfast is one of the most important meals of the day. Even if your kitchen is small, prepare a hole or leave a space on the countertop with shelves for the cups and in which to place the coffee maker and toaster. With the arrival of telework, it will also be your new resting place at home.
This is Amazon's best-selling coffee maker. Manual espresso machine with double outlet arm to say good morning to you every morning. From Cecotec from € 69.90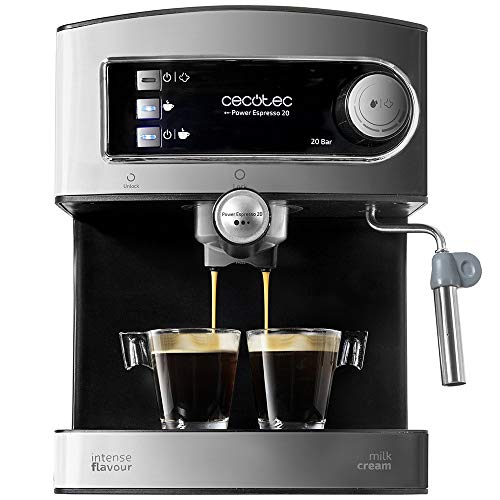 Cecotec Power Espresso 20 – Manual Express Coffee Maker, 850W, 20 Bar Pressure, 1.5L Tank, Double Outlet Arm, Steamer, Cup Warmer Surface, Stainless Steel Finishes, Black / Silver
Also think about a space to recycle
In most homes, recycling is standardized and a distinction is made between organic, packaging, glass, cardboard and scraps … which requires a specific space. If you can place 5 or 6 buckets under the sink it is perfect, if not part of them are moved to the clothesline or ingenious forms are sought in which to deposit waste as in wall shoe rack format, one of the best-selling systems for recycling.
Arregui Basic Steel Recycling and Trash Bin with 4 Buckets, Metal, Light Gray, 90.5 x 58.5 x 24.5 cm. With an 11% discount. Recommended price € 150.00 Price now € 133.40
Under the sink is the most comfortable if there is space.
ELLETIPI Metropolis Recycling Bin with drawer, Gray, 51 x 46 x 28 cm from € 52.98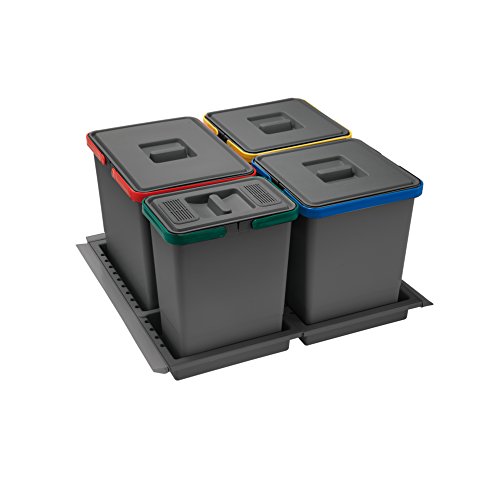 ELLETIPI Metropolis PTC28 06 050 2 F C10 PPV – Recycling Bin with drawer, Gray, 51 x 46 x 28 cm
Gray or dusty colors for kitchen furniture
Although white kitchens are still our favorites, now I know if you bet on color, bet on dark blues or greens, or on pastel colors, such as yellow, blue or nude pinks and on wood (on the floor, on the edges. ..)
Featured Image Kitchen by Jack Trench Jt.
Similar in Decoesfera | 17 beautiful and inexpensive kitchen accessories to get the most out of your kitchen
Good, nice and cheap kitchen renovation: blinds, handles, tables, chairs and lamps to give a quick change of look