Many series of bathroom furniture include tall wall units with the same finishes as the sinks, to give that extra storage capacity so desired and necessary in the bathrooms.
The ideal bathroom in addition to fulfilling the functions -by all known- for which they are designed, is also required to have enough capacity to store the many belongings and accessories that we use in them. Between clean towels, gels, creams, hair dryers, tweezers, toilet paper etc … it is difficult to have an empty shelf or drawer in the bathroom.

Dispense with the bidet (one of the most common bathroom renovations in recent times, but it does not have to mean giving up its functions) makes it easier for us to have an extra space. At least a piece of wall forty centimeters wide to place a tall piece of furniture.
In addition to storage capacity, these furniture in height are also very ergonomic because tall furniture makes things more accessible.
The issue if you allow me more "tricky" with this furniture is that do not break the aesthetics of the bathroom. To make it look good, it is not always necessary to have the "matching" furniture for the rest of the bathroom.
You can use this furniture to include a new color or material, such as wood, metal handles, profiles …
Here are some options we have found from different styles and shallow depth, so that they fit in almost all bathrooms.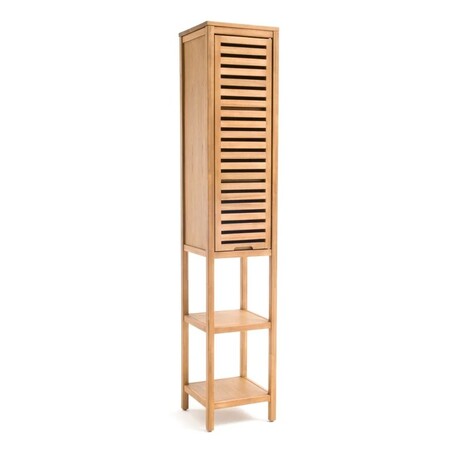 This acacia wood bathroom set by La Redoute Colonial style includes a column cabinet, open at the bottom and with a laminated door that can be included in many bathroom styles. Dimensions of the column length 35 cm, height 180 cm., Width: 35 cm. by € 179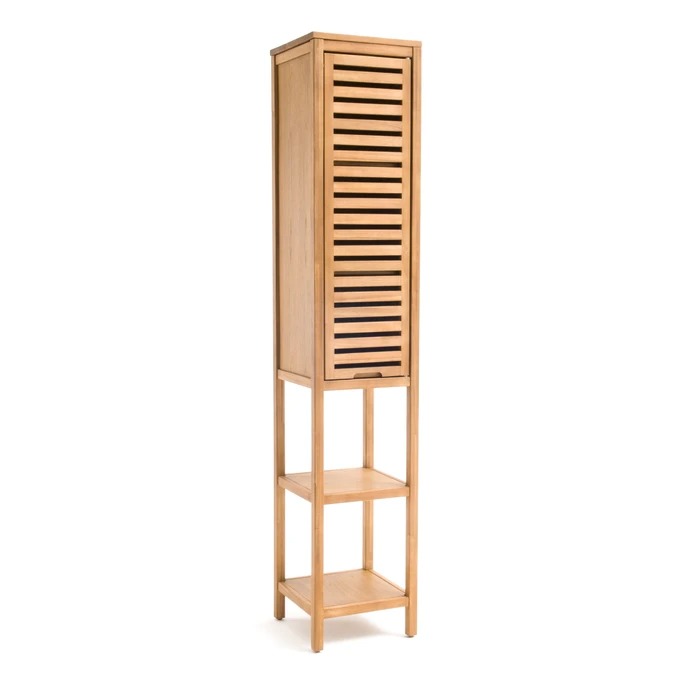 LA REDOUTE INTERIEURS Column for bath in acacia oil, HAUMÉA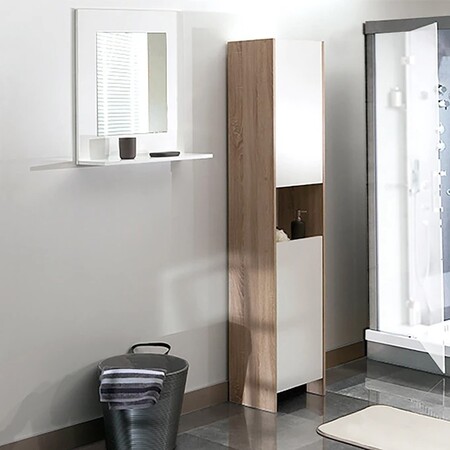 Also from La Redoute, this column combines oak wood with white doors and dimensions of W 38.2 x D 28 x H 180 cm by € 169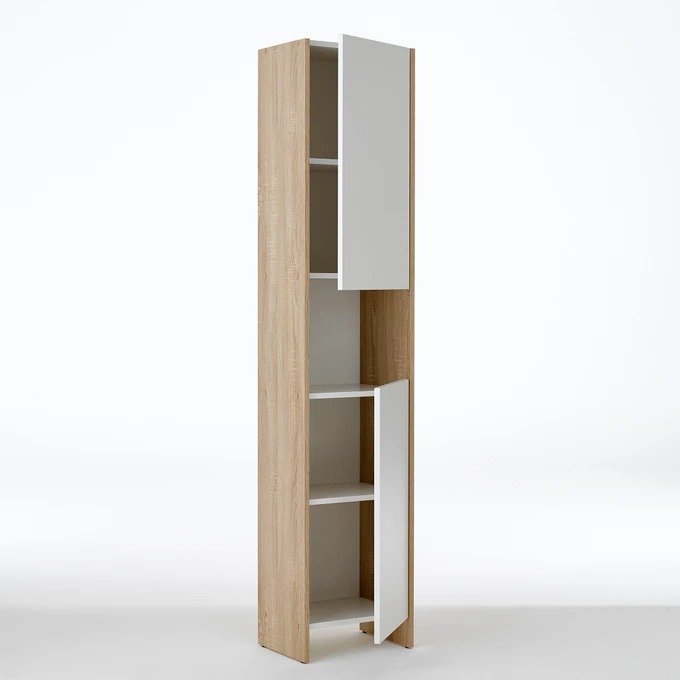 Column cabinet for bathroom Banero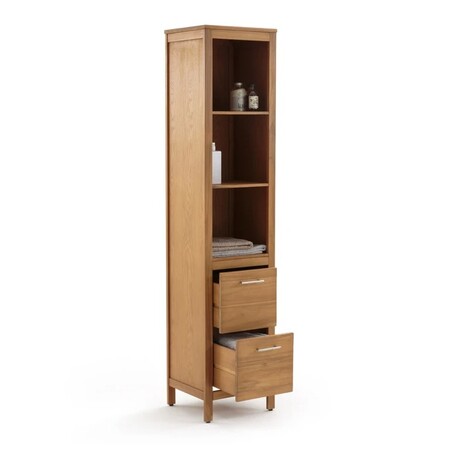 Another model in acacia wood timeless style. CHARON bathroom column with a 10% discount price before € 279.00 and now € 249.98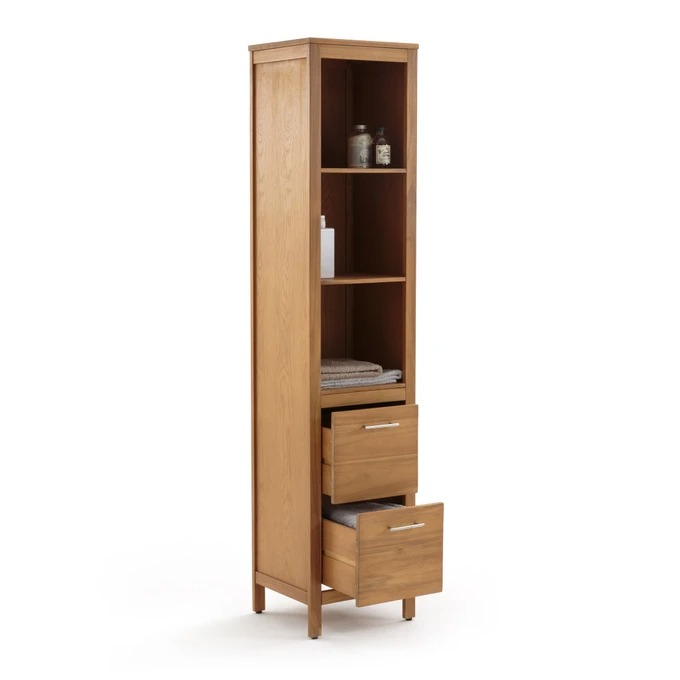 CHARON bathroom column, acacia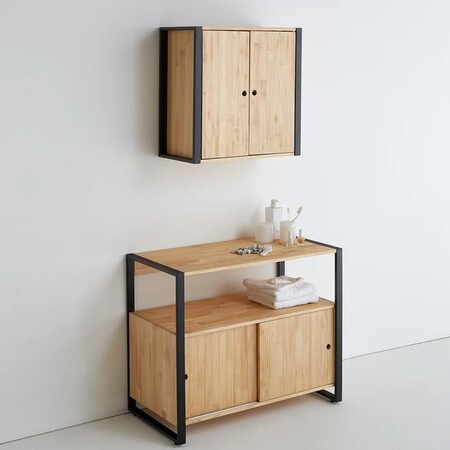 This measure is ideal for place on the toilet and make the most of the bathroom meters. A sober and a bit industrial line, this tall unit combines metal and solid pine and is now 25% off. Tall cabinet for bathroom, Hiba only 30 cm deep, price before 199.00 € and now € 149.98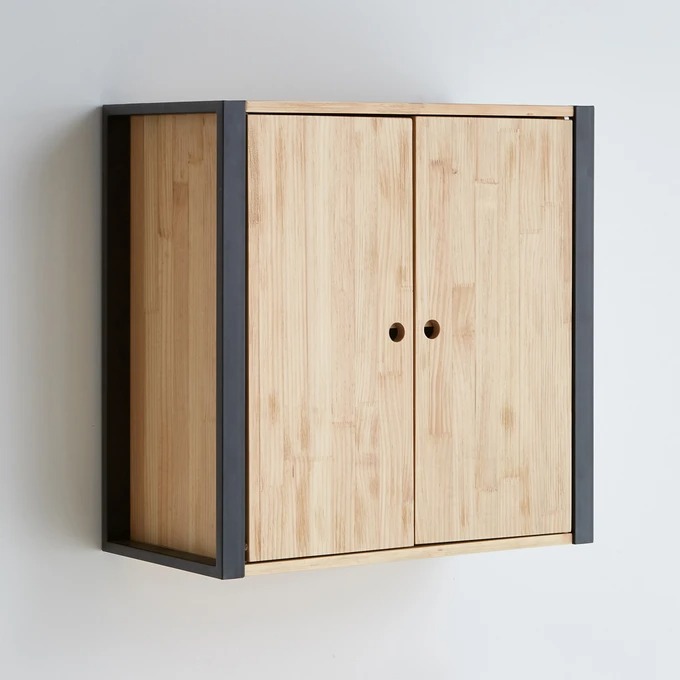 Tall cabinet for bathroom, Hiba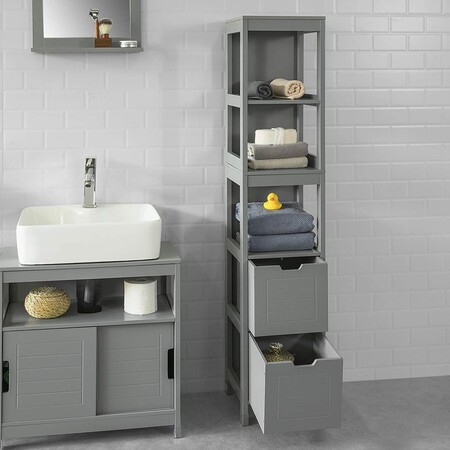 In dark gray, this bathroom column includes 3 shelves and 2 drawers. De SoBuy is available at Amazon by € 59.95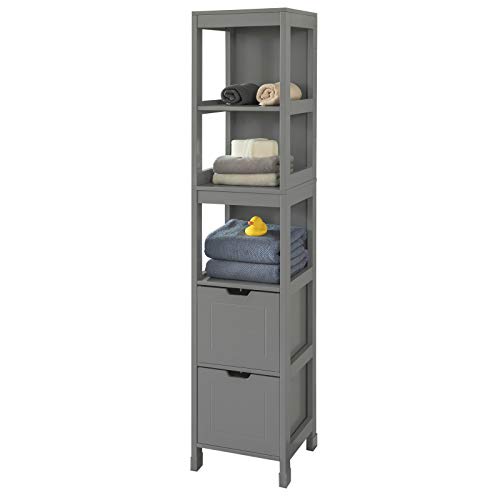 SoBuy FRG126-SG Cabinet Bathroom column Bathroom cabinet-3 shelves and 2 Drawers ES (Dark Gray)
For lovers of shine and the clean sensation of glossy white, you can opt for this column with a functional design without visible shelves from Miroytengo and for sale at Amazon. Suspended bathroom column measures 30x25x150 cm € 69.00

Miroytengo Bathroom Toilet Column for Suspended Basin in Glossy White Color with Handles and 2 Doors Current design 30x25x150 cm
In The English Court, This bathroom column has an extra dose of style thanks to the vertical handle door. Now with a 15% discount. Price before € 209 price now € 177.65
SALGAR Attila Salgar 1-door bathroom column
Also from The English Court, this wooden furniture is ideal to be combined with another and with the washbasin mirror (as in the image), or only next to a mirror for the smaller width washbasins. De Sanchís, Auxiliary right wall cabinet Noah Sanchís also in The English Court with a 15% discount. Price before € 179 and now € 152.15
SANCHÍS Auxiliary right wall cabinet Noah Sanchís
This Roca bathroom cabinet from the Carmen series will delight lovers of classic style.
Despite its ancient character it has led lighting inside and its measurements are 44.5 (width) x 36.7 (depth) x 190 (height). In The English Court now with a 15% discount. Price before € 779 price now € 662
ROCA Carmen Roca bathroom column cabinet
Also in a classic style this tall cabinet by Ikea, as on the cover. The GODMORGON Kasjön model in white 40x32x192 cm € 199
GODMORGON High cabinet, Kasjön white 40x32x192 cm
Finally, a piece of furniture whose scarce depth (14 cm) makes it fit anywhere (behind the door?). Hiba bathroom cabinet with a 29% discount, Price before € 129.00 and now € 90.98
Similar in Decoesfera | Fifteen sinks to update and give a new look to the bathroom
Eleven inspiring floors for the bathroom