Give you a plus of design to the bathroom To receive us as a pleasant stay, in which to relax and enjoy, it is something that is achieved by paying attention to the details and above all, by going one step by choosing complements and accessories that one does not always expect to find in the bathroom.
The comfort of a bathroom is achieved with the choice of good toilets and taps but also, designing a bathroom that transmits the sensations (luxury, warmth, comfort …) that make us feel good and, if possible, that are consistent with the rest of the house.

There are many designed elements designed for this room that are not compatible with any other. It is difficult to imagine a luminaire on a mirror in another room, or a bath mat in a living room.
If we limit ourselves to decorating the bathroom with accessories only designed for the bathroom, we can obtain a good result, but surely we will not pass the correct or approved one in the final result. If what you want is go one step further and elevate the bathroom design a good idea is to include versatile accessories, initially thought for other rooms that will give the bathroom a more luxurious and comfortable aesthetic.
A bathroom with paintings
For what we suggest including pictures. But refrain from marine reasons for the obviousness of the theme.
This one from Kave Home measuring 60 x 90 cm in white, black and a touch of nude pink, to join the the trend of pink in the bathroom.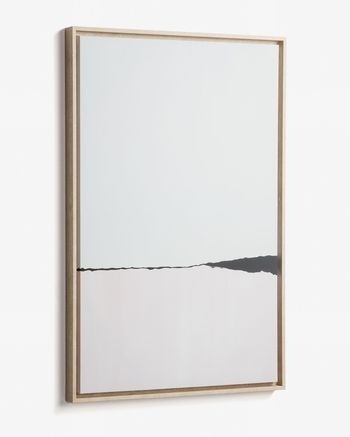 Wrigley painting 60 x 90 cm pink
Carpets (not floor mats) in the bathroom too
To coexist with or replace bath mats, try an unconventionally designed cotton bath mat (even Persian rugs are worth it). It is a very simple way to warm the bathroom and hide a bland or nondescript floor.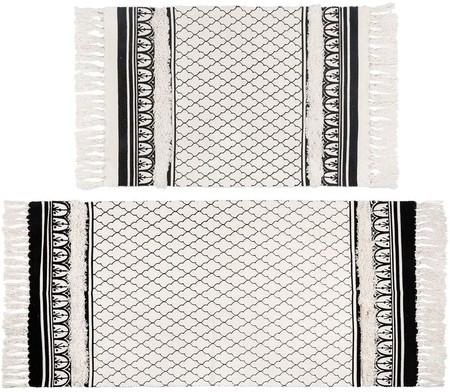 Made of cotton and washable, this rug in its smallest format (60 x 90 cm) on Amazon from € 18.99 is ideal for bathrooms.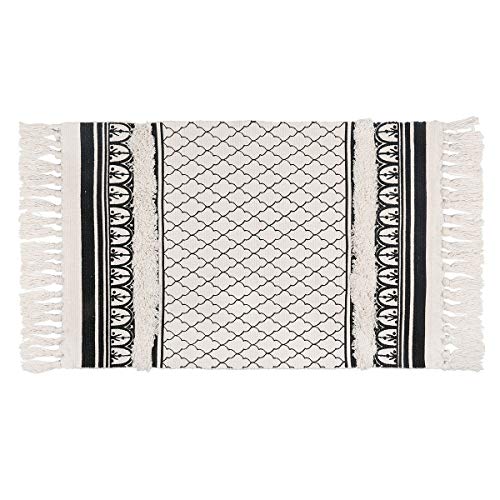 SHACOS Washable Cotton Rug Hand Woven Carpet Black Vintage Carpet for Salon, Kitchen, Living Room, Decoration
Unconventional lamps for bathrooms
The bathroom can go a step further by including classic wicker lamps or wall lights … without the need to resort to ceiling lights and downlights.
This wicker lamp takes the basket format to the ceiling and combines very well with the most Mediterranean and fresh bathrooms. On Amazon from € 32.50.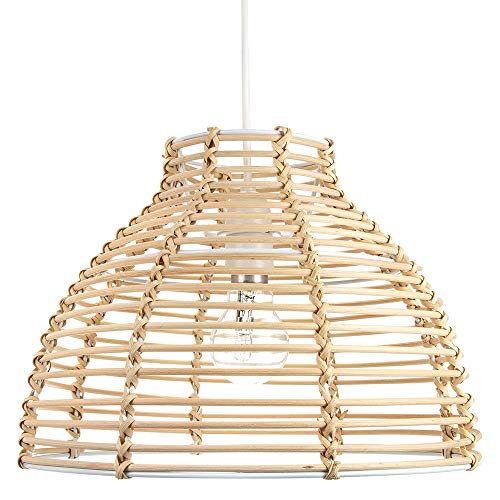 Traditional Basket Style Light Brown Wicker Wicker Ceiling Lamp Light Shade by Happy Homewares
Marble trays, baskets vases and other unconventional items for the sink
A very easy way to take care of the details making a difference is to replace the traditional washbasin kit with loose pieces, which include finishes and trend materials such as baskets, vases …
De Vida XL, bamboo towel rack for bathroom from € 34.01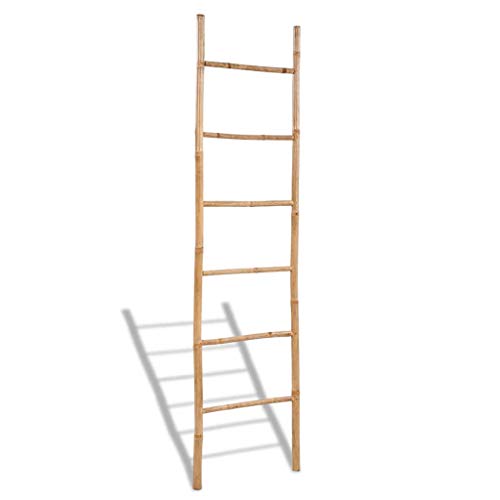 vidaXL Ladder Towel Rack 6 Steps Bamboo Towel Organizer Bathroom Toilet Design
Medusa Vase Verónica El Corte Inglés € 19.95
Medusa Vase Verónica El Corte Inglés
Dark green marble tray imitating marble from H&M Home € 24.99
Your bathroom needs one or more wooden stools
Similar to this bank in La Redoute with a 15% discount normal price € 169 price now € 142.99
To include another finish – wood -, to have a place to lean or sit (in the absence of a sink), or to use it as a ladder (and get to clean the joints), any excuse is good to include a wooden stool .
A small stool you can find similar on Amazon from € 11.99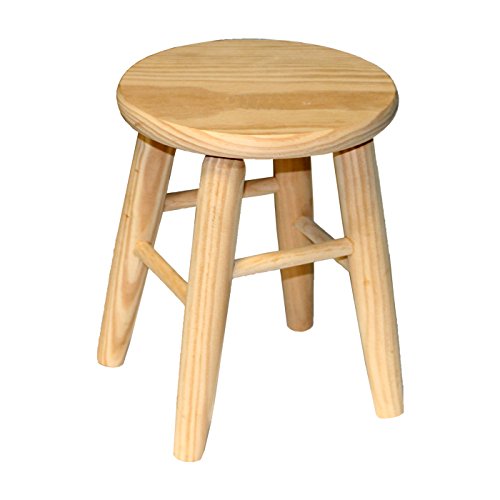 Natural wood stool 33 x 22 x 22 cm
The sinks with more personality if you use other furniture
Not only the furniture in the sink is for the sink. If instead of the conventional washbasin cabinet you use and recycle a dresser or a sideboard you will have an extra design.
Plants are also for the bathroom
In fact, there are some plants that do very well in a humid environment and it is the room in which the plants will be best.
Similar in Decoesfera | Solutions for very small bathrooms; ten shelves to put over the toilets to keep things organized
Nice and cheap faucets to give a change to your bathroom