In addition to the design, there are numerous conditions that will determine the choice of the tap in the kitchen or bathroom.
Especially in the kitchen There are elements such as the opening of a window – which is usually located at the back of the sink – that can condition your choice. In the case of bathrooms the problems usually come from the choice of the sink, in the case for example, to choose a sink sink the tap must be high spout or wall.
And if aesthetics and conditions play an important role in the decision, so do the benefits of each tap. There are several faucet models with various jets, with filter coupled or not, mobile nozzle, flexible extender, sensor drive and economizing technologies that limit the amount of water per drive.
Taking into account the performance of the taps and their possibilities, from BigMat, they give us different ideas and solutions to choose the faucet that best suits our needs, both in the kitchen and in the bathrooms.
Above all, they point out, the basic thing is to pay attention to two details: the height of the tap in relation to the tank and the length of the nozzle to ensure that the water outlet is in the direction of the drain.
1.- KITCHEN TAP
Must take into account the dimensions. Tasks performed in the kitchen sink require a comfortable space for washing food, washing dishes and related. Thus, there must be a minimum distance of 30 cm high between the peak of the tap to the drain, being sufficient to wash objects and larger utilities, regardless of whether the faucet is fixed on the countertop or on the wall.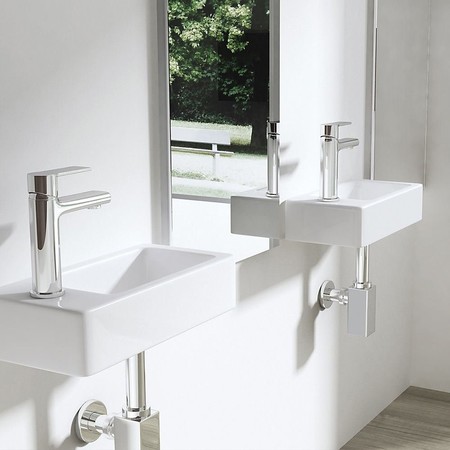 As for the dimensions for the bathroom faucet, the fundamental is that the water jet must be directed to the drain and the tap size must be proportional to that of the bathtub or sink. In addition, it must be ensured that the water will not drain from the side when the tap is located in the corner of the sink (in basins of very little depth).
3.- THE TAP CONTROL
There are three options to choose from.
Single lever: You can control the desired flow and temperature with one hand. The lever can be placed both on the front and on the side of the faucet body.
Bimando or monoblock: They are two-handle faucets (the classics). Today, bimando faucets are chosen for an aesthetic issue when they are placed in kitchens or bathrooms that look for a "retro" or classic and timeless style.

Thermostatic: It has two controls, for flow and temperature and they are able to maintain the temperature with different flow rates so they save a lot of water.

4.- TYPES OF INSTALLATION

Recessed or wall installation: One of the trend options of the moment. In this case, the faucet is fixed to the wall and the pipes are inserted inside it and there are only between one and three holes where the faucet is connected, depending on whether it is a single control or bimando, respectively.

But if the installation is not ready to go recessed it will be expensive to adapt it. That's why it is the option to choose if in addition to the bathroom you will make a comprehensive reform or that involves changing the coatings.

Installation on shelf: It is the most used for the sink and bidet. It is important that the chosen tap adapts to the space where it is going to be installed and in case of choosing a mixer tap, it is important to check the turning space of the remote control to avoid touching the wall.

5.- THE AESTHETIC ASPECT

In addition to the functional aspect, aesthetics is also important because its design and finishes have a weight in the decoration of the room. In fact, one of the simplest ways to modernize the kitchen is to change an old tap for one of sculptural aesthetics.

You can put the effect touch by choosing a black, copper or gold finish. Everything will depend on the style of your kitchen or bathroom.

Via Bigmat

Cover image A. S Helsingo

Similar in Decoesfera | The latest in kitchen faucets, a tap that draws filtered and boiling water at the press of a button

Kitchen countertops; practical guide to choose the options and materials that suit you