Have you ever stopped to see closely how a mirrored tray can it be an extra charm for different types of decoration proposals? Here's how to do it step by step!
They can go from simple to modern, as well as compose different and unique details, bringing an extra touch to that special corner you want to decorate!
The ideas and suggestions are countless, but the result is unique, with beauty, style, versatility and functionality in one piece!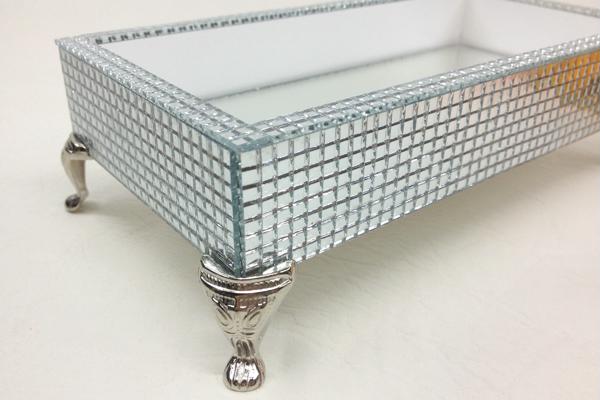 Mirrored Tray
If you are the type of person who loves pieces full of details, and on top of that, who knows the potential that the mirror can bring to your decoration, you certainly know that mirrored trays can never be forgotten! So, how about taking inspiration from these amazing pieces!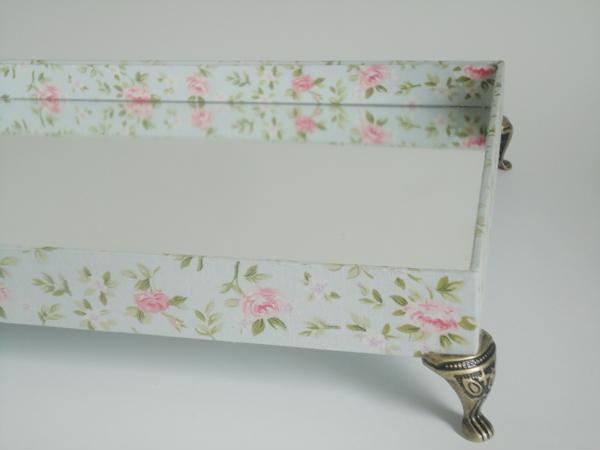 The mirrored trays are versatile, as they can be accommodated in different types of environments and with different proposals! The best thing is that they not only serve to bring beauty, but are also extremely functional!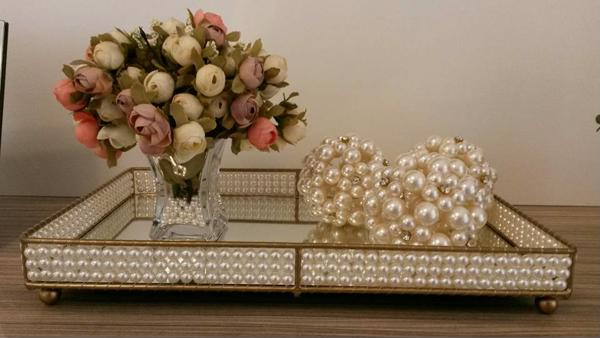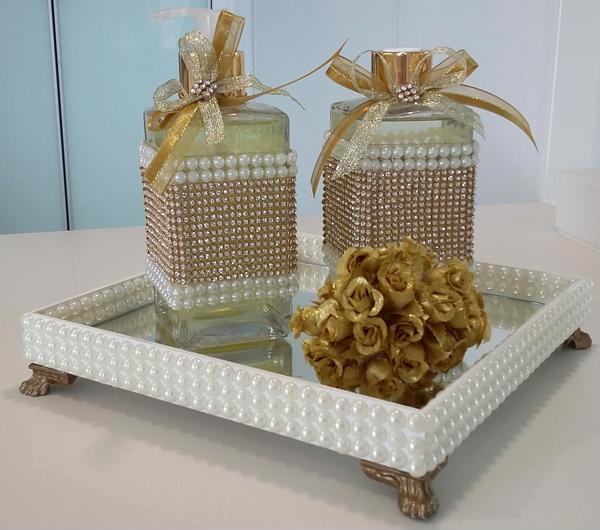 Mirrored Tray: How to do it step by step
That the mirrored tray is a beautiful piece, no doubt, but did you know that the proposal can be even more incredible when you create yours? How about learning a super easy step by step to make your decor even more full of personality?
Template 1
You will need:
Mirror with frame
2 drawer handles of your choice
Pliers
Brush
Ink pen (must be permanent)
Handmade paint for wood (color can be your preference)
If you want, you can use beads, pearls, rhinestones and other materials to decorate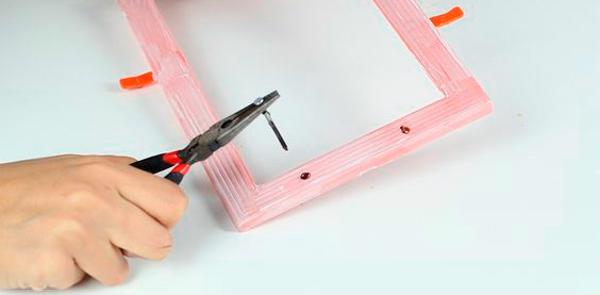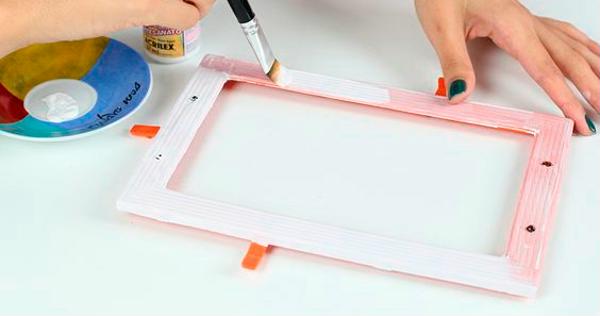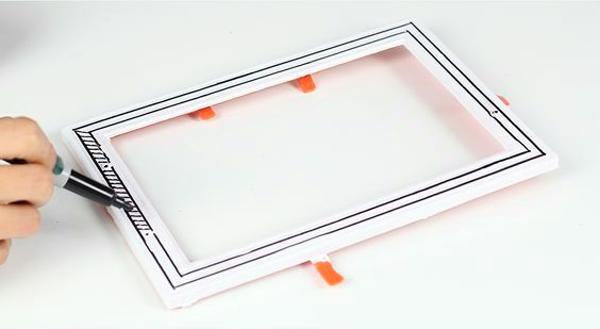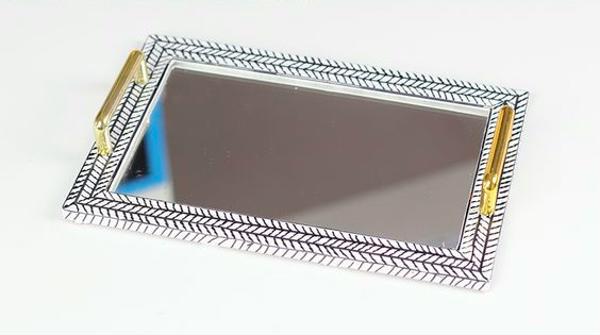 Model 2 (in Video):
This model 2 was developed by artisan Anailde Soares:
See the step by step:
How to Make Mirrored Tray Spending Little
Anyone who thinks that having a mirrored tray means making a high investment is wrong! even if it is a piece with details and even highlight it can also be ideal for your decoration – and the best: without you having to pay a lot for it!
One way to make this possible is to reuse old frames and mirrors to create your tray!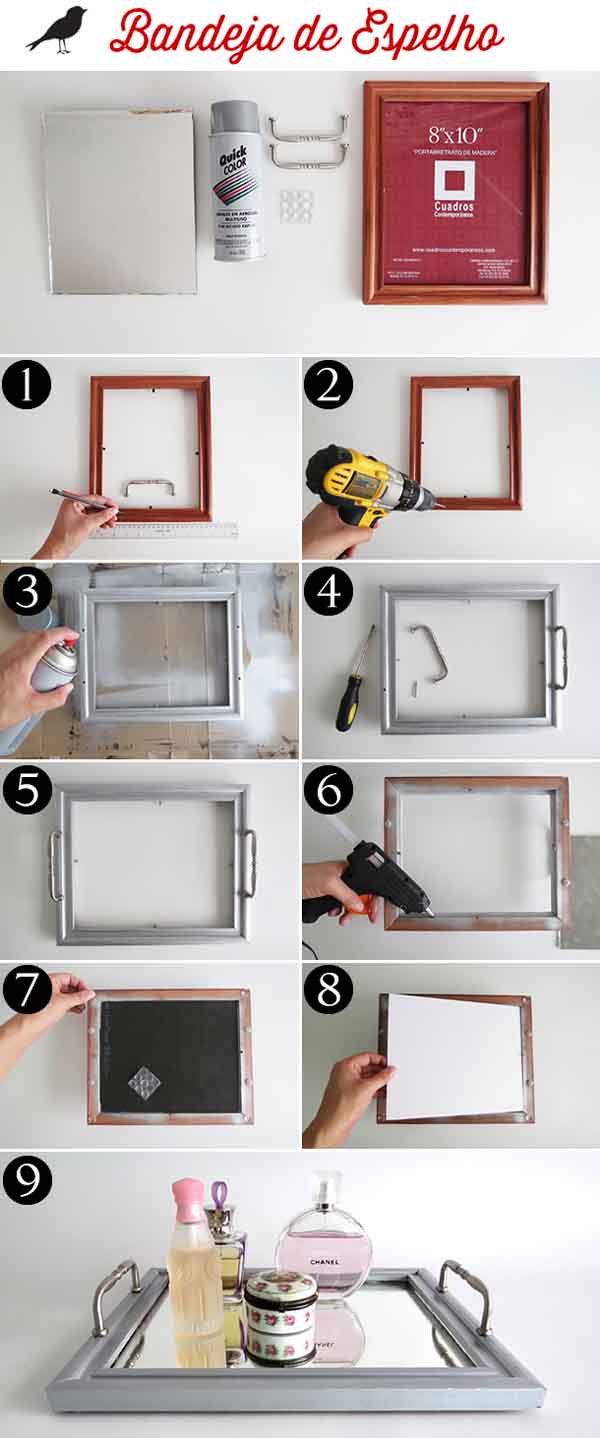 Mirrored Tray Models with Crystals
Looking for inspiration from a mirrored tray with crystals? Then you've come to the right place! You can certainly be inspired a lot with these suggestions! – one more beautiful than the other!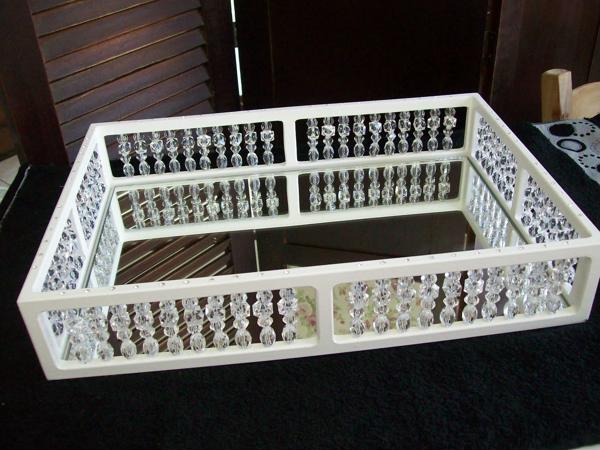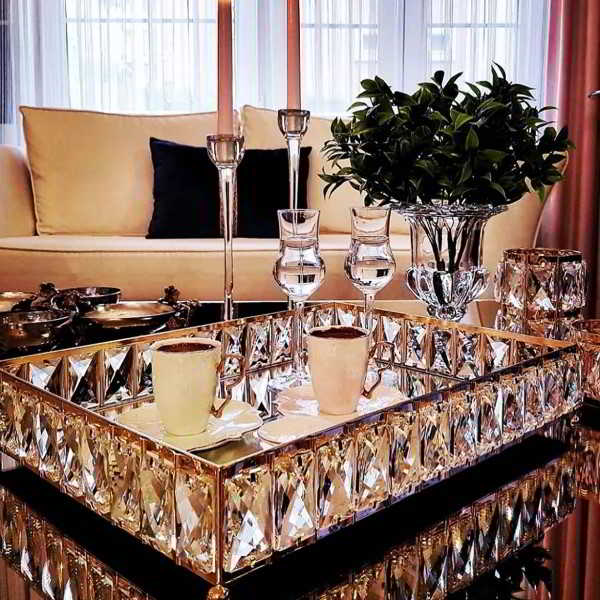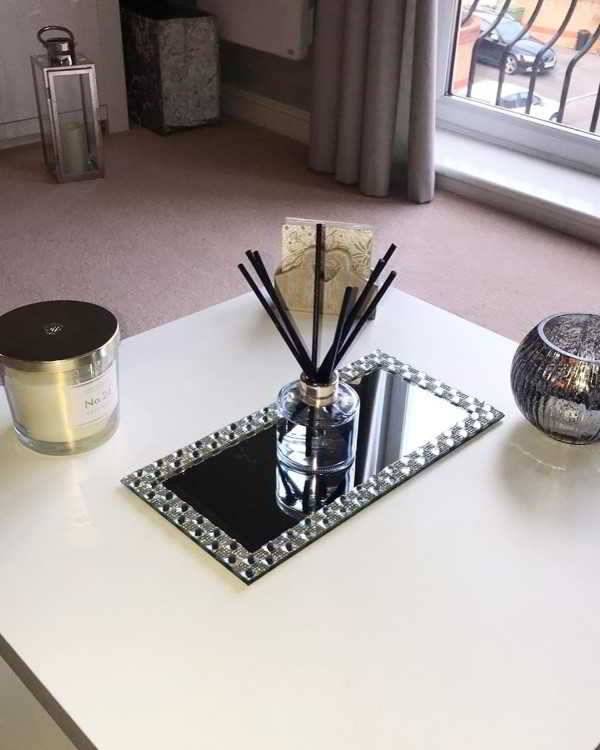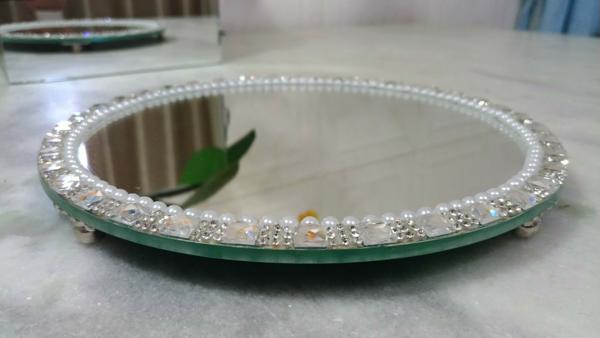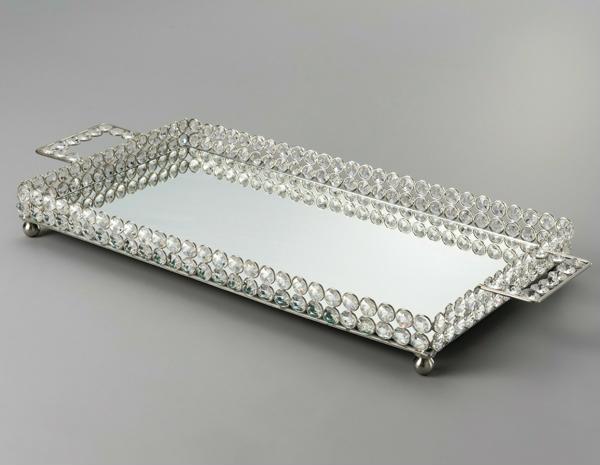 Pictures of Mdf Mirrored Tray
One of the most used and most versatile trays with mirrors is MDF. The material allows a series of different finishes and proposals, as well as measures to suit the most varied types of furniture and ideas!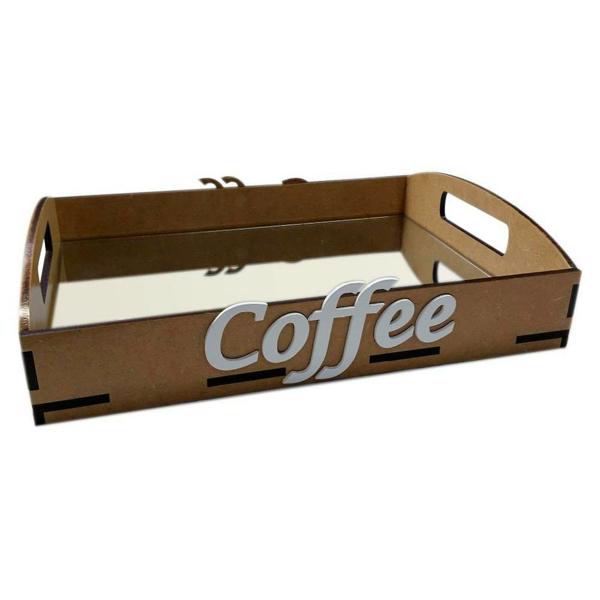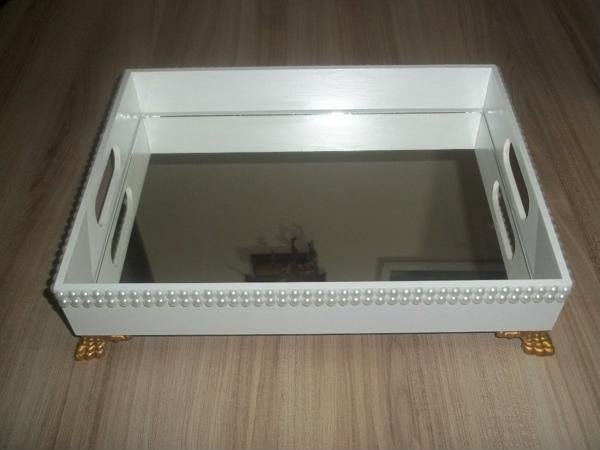 Mirrored Bathroom Tray Ideas
As previously mentioned, the mirrored tray has a very versatile use, and the bathroom is one of the most interesting places to accommodate this type of piece!
It not only helps to bring beauty to the decoration, but allows to make everything even more organized and easily accessible!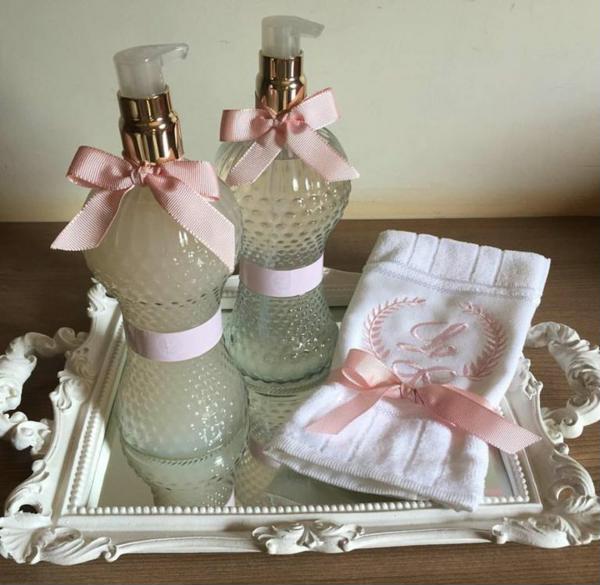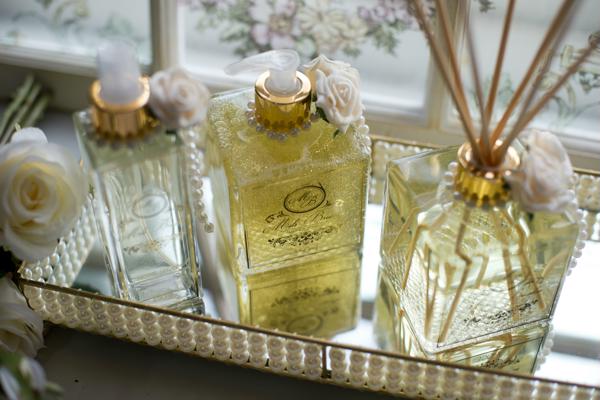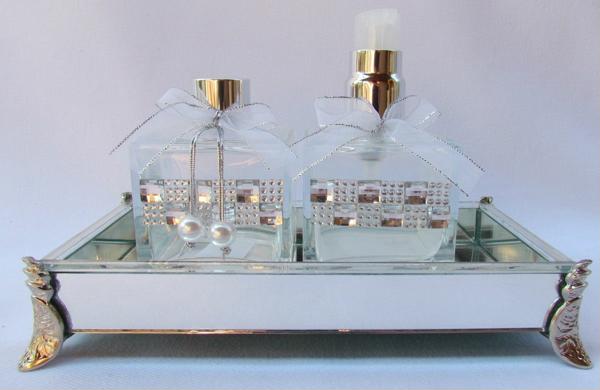 How to Make Mirrored Tray for Sweets
If the idea is to have a special corner to accommodate sweets, once again the mirrored tray may be the best way to do this!
Best of all, making this tray proposal is no mystery, and you can still make yours with different sizes and heights!
You will need the following materials:
hot glue
pearls of colors and / or sizes of your preference
a small size mirror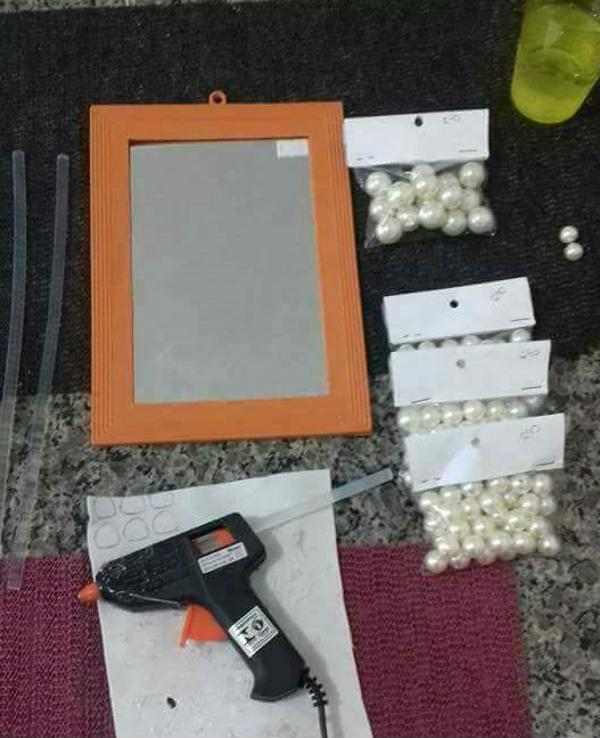 To make your tray for placing sweets, you must remove the mirror frame and paste the pearls around it. Do this until the height you want! The higher it is, the more sweets can be placed!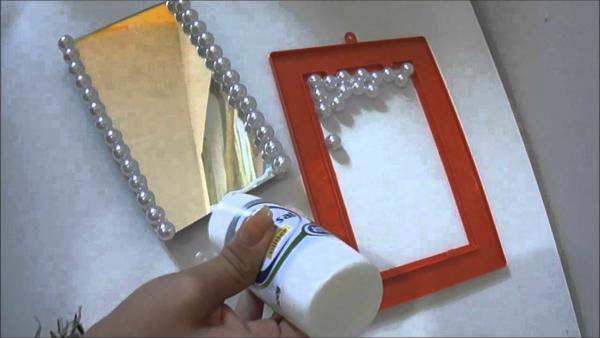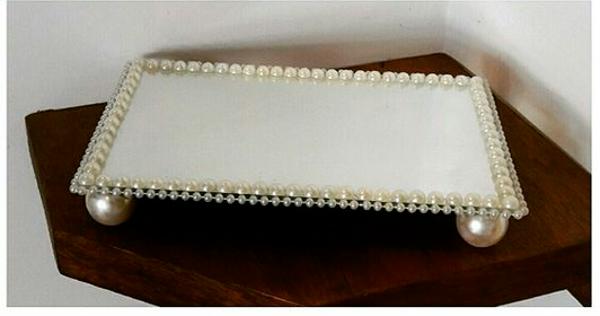 Mirrored Tray with Pearl
The pearl details can be that extra trim in your piece! With different colors, sizes and shapes to apply, they make mirrored trays even more delicate and even sophisticated, ideal for decorating proposals that have this segment!
The way to apply the pearls and the union of other details has no limitations, that is, if the idea is to make your own tray, the tip is to let your personal taste and creativity take over!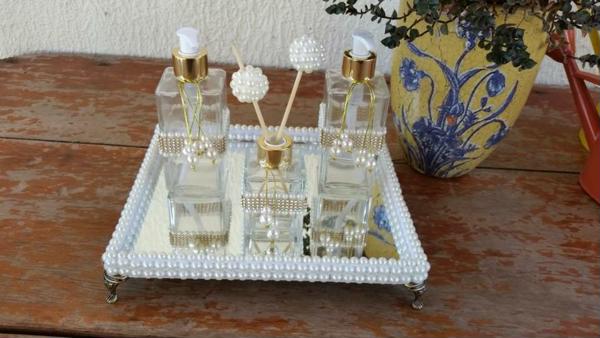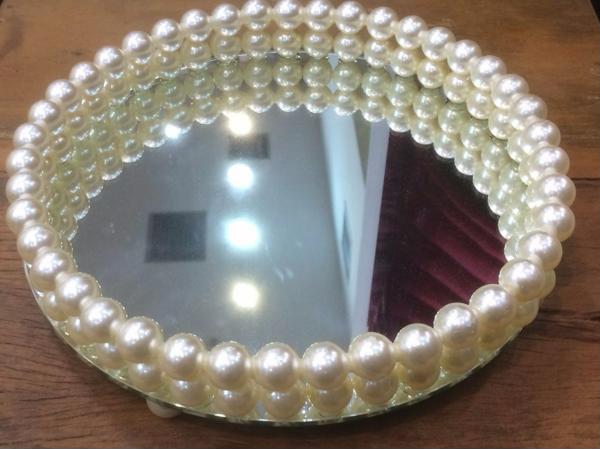 Whether in the corner of the cafe, on the prominent furniture, in the living room, on the coffee table or even in the bathroom to accommodate several different items – they certainly bring an extra charm!