East Before and After transforms without annoying works, a kitchen that was not in poor condition and fulfilled its functions but whose outdated aesthetics was no longer liked by its owners.
There are times that reform a kitchen It is completely necessary for the poor condition of your furniture but there are other occasions when the state of the kitchen is good but his aesthetic accuses the passage of time. It may also be that the kitchen is not your taste, something very common when you buy a second-hand home.
This was the case of this kitchen that had furniture in good condition but whose brown furniture and a large border that crossed all its walls, betrayed the passage of time.
To take advantage of the good condition of the furniture and avoid annoying reforms, the owners resorted to Ana Lorenzana from @decoryver, an expert in transforming bathrooms and kitchens into modern and modern spaces without the need for annoying works.
In this kitchen Ana risked (and won) with color. He opted for a soft green to cover the furniture and give light and color to a kitchen that has undergone a great change thanks to small improvements.
The kitchen before
The furniture and countertop were light brown melamine and the ceramic floor was also brown which it darkened a kitchen whose details betrayed the passage of time. Details like lthe rounded edges of the countertop, the valance of the walls and the mixture of white and steel appliances, which were replacing the former as they broke down.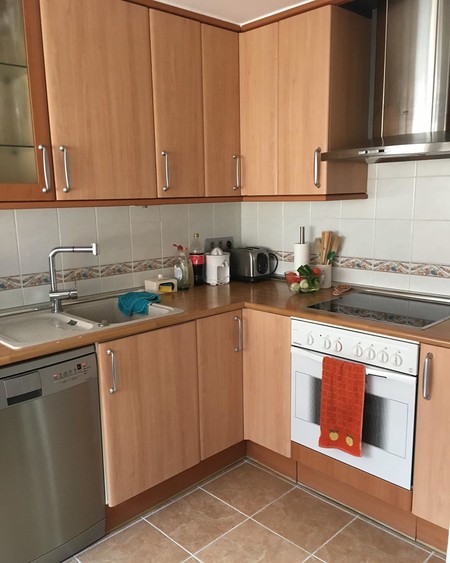 The kitchen after
The change with the naked eye is large due to the color change. You have to look at the details to see that the furniture or kitchen handles have not been changed. Nor has its distribution been affected.
The most obvious change is the light green color with which the upper and lower kitchen furniture has been painted, including drawers.
The kitchen walls have also been painted with matte white tile paint completely covering the valance.
The previous floor has been covered with a Vinyl that mimics the oak floor. This is one of the gestures that most updates the kitchen.
The countertop has also been changed. The old melamine has been changed to another of straight edges and that mimics natural wood.
As for the appliances, the old white oven has been changed to a matching steel one in the dishwasher. Also the sink has been renovated by a white model of straight lines.
In the transformation, the details determine the result and in this they have been taken care of to the maximum and even the plugs of the dashboard have been changed. A small economic gesture but very effective that reinforces the feeling of brand new kitchen.
A kitchen that now looks fresh and bright and above all, very current.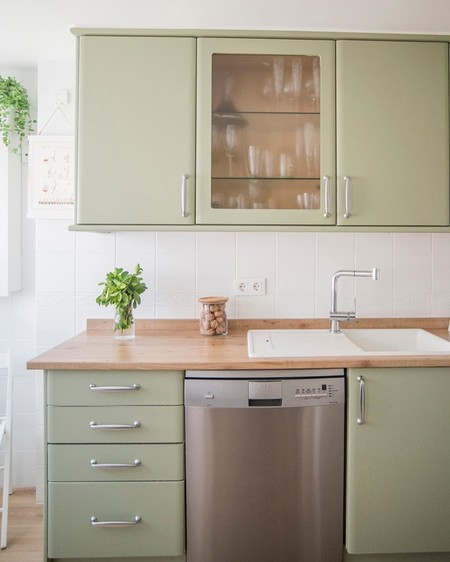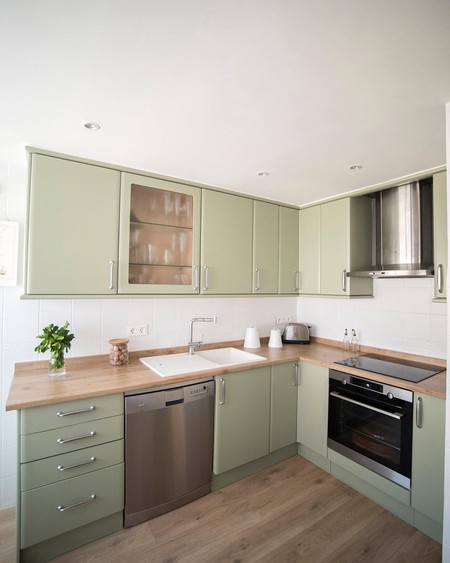 Images and project of @decoryver
Similar in Decoesfera | Five "before and after" bedrooms that emphasize a wonderful headboard
The Before and After a kitchen after an "express reform" by Decoryver