Sometimes it seems that at this point in life it is difficult to reinvent an object that is hundreds of years old. The young designer Natascha Van Reeth He has just shown that it is possible to renew the aesthetics of something as everyday as kitchen knives.
This designer, creator of the Tasch Design studio, based in Antwerp, he has started his professional career with the creation of this minimalist knife set in some lovely pastel colors using the properties of HI-MACS®.
The set has three identical knife models, although each one is made in a different pastel shade of the HI-MACS® Lucent collection, in addition to a base on which to deposit them, made with the same material and also in different color. The edge of the knife is extremely sharp, gradually widening to allow its grip safely.
Apart from the image of the knives, they also play with the advantages of HI-MACS® in the gastronomic field, since its surface without pores or visible joints guarantees total impermeability against germs, dirt and other pollutants.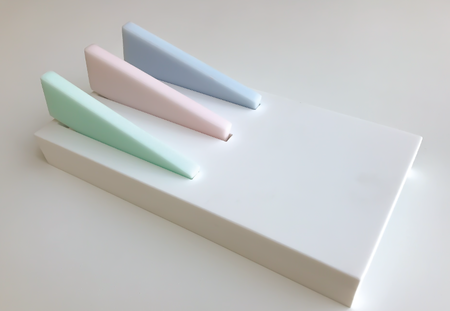 In addition, the creator ensures that if scratches occur on the surface of the knife, these are easily repairable, so that its original design is never compromised.
More information | HI-MACS®