To have a small room it determines the choice of furniture and sometimes requires drastic solutions such as giving up having a dining area or a practical work area. The ideal living room would have enough meters to include a large living area, a dining room with a sideboard included and a bookcase, which would include a comfortable reading corner. Something like the living room of this house designed by Pia Capdevila.
But we know that reality is more composed of small rooms where you will be lucky if, in addition to a sofa, you can include a small dining room. And, although the real problem is always the lack of square meters, there are some decorative tricks With which you will make the living room seem larger than it really is or with which you will at least ensure that the square meters of your living room are well used.

Better few pieces of furniture but of reasonable sizes than many small ones
If the living room is small it is better to have less furniture but a reasonable size than many small pieces of furniture. This will prevent the room from looking overloaded and its use will be more comfortable.
Some specific cases. It's better to have a large sofa or a chaise longue than two sofas. If there is no place for a side table in front of the living room, it is better to do without it than to reduce the size of the sofa excessively.
Take into account the circulation of the room
In addition to the size of the furniture, for a room to look spacious it is necessary to take into account its circulation. Moving comfortably and reaching the main sofas, dining room … areas with ease will be key to making the living room look bigger.
Attention to the size of the rugs
A very common mistake is to place small rugs in the living area that will achieve the opposite effect
Use a large rug that covers the entire living area (sofa or chaise lounge, armchairs, or occasional tables if there are any), so that the area appears more spacious.
On the contrary, this rug helps the living area look more spacious.
A carpet of at least 230 x 160 cm (to collect the length of a standard sofa) on Amazon from € 59.99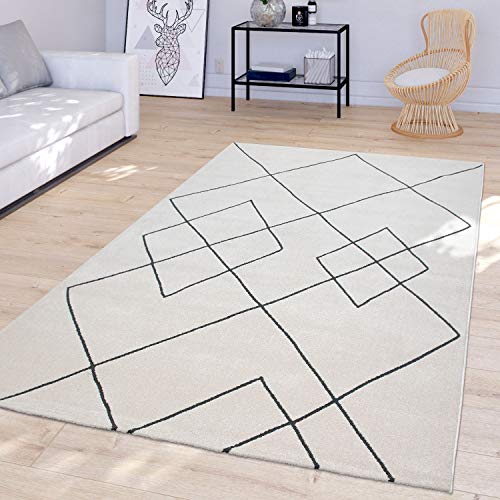 TT Home Living room Modern rug with diamond pattern Skandi short pile resistant, white, 160 x 230 cm
If you don't want to give up the dining room, use these tricks
If you do not want to give up a dining area in the living room use extendable tables and remember that if the table is round, it will make circulation easier. If the table is rectangular you can keep it against a wall while it is not being used and that it serves as a work table there. And pay attention to the chairs.
One trick is that the chairs around the table are as few as possible (two, three, …) and the rest of the chairs are scattered around the house. This way you won't have a lot of furniture in the living room.
As in this image, poufs or low seats are a good idea to give extra seating without taking up a lot of space.
Round cushion with a natural finish for € 66 at Amazon.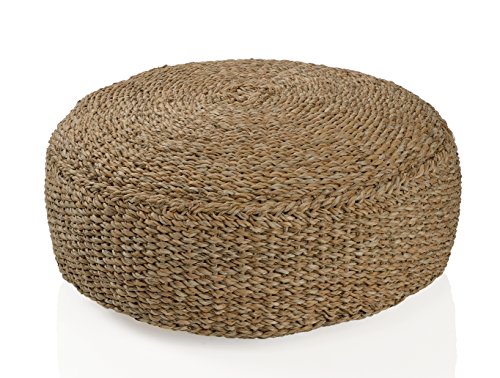 ANDREA HOUSE Round Seaweed Pouf
The use of color is key to making the room appear larger
Light colors contribute to a feeling of light and spaciousness. The easiest is use a light base and that large furniture (sofa, dining room, carpet …) are also light. The best color in small pieces such as cushions, paintings, lamps …
If instead you like sophisticated environments and dark tones, you can paint a wall in dark tones (gray, green or dark blue are a trend), and make the sofa that leans against this wall be the same color. You will be able to blend the sofa with the wall.
Of course, double function furniture will be your allies
A chaise lounge that opens to store blankets, a dining table, a desk, a bookcase / desk … dual-use furniture is always a great resource to gain meters in a small living room.
Cover image Slow chic
Similar in Decoesfera | Your classroom under examination; six criteria your salon must meet to make it look like a magazine
The art of dressing a sofa or how to go from a bland living room to a warm and contemporary living room at the hands of H&M Home