After passing lockdown in 2020, the bathroom has been one of the spaces that has raised the most requests for reform.
Confinement has led us to re-discover the bathroom as a functional space but also as a place to relax and unwind. In this function, showers and bathtubs play an important role, which must be as spacious as possible.
The real consequences derived from this confinement are not yet known. Needs are likely to change and that in the future we will not mind sacrificing the size of a room or even the number of bathrooms to achieve the largest possible bathroom that can fulfill its new functions as a spa.

And while we wait to know the result of the next reforms we make the 2020 trends in the bathrooms that will remain in 2021.
The new marble is onyx or translucent stones
This year we have discovered the onyx finish to create a luxurious bathroom finish that will make your bathroom look like a little jewel. You can use it in small doses. For example, only in the bathtub and / or in the shower to enhance the luxurious effect when taking a bath.

Wall taps
Whenever there is work involved, take the opportunity to install a wall-mounted faucet in the sink and even in the shower. Almost all renovated bathrooms include them and it is a way to gain in cleanliness, design and in the case of the sink in useful space.
Bathtubs is the new object of desire whenever possible
The bathtub and everything that involves taking a long and relaxing bath (trays, foam soap bombs that you can make yourself …) have been an upward trend during 2020.
By the way, if possible the freestanding bathtub and remember that in the absence of space in the room it can be in any other room.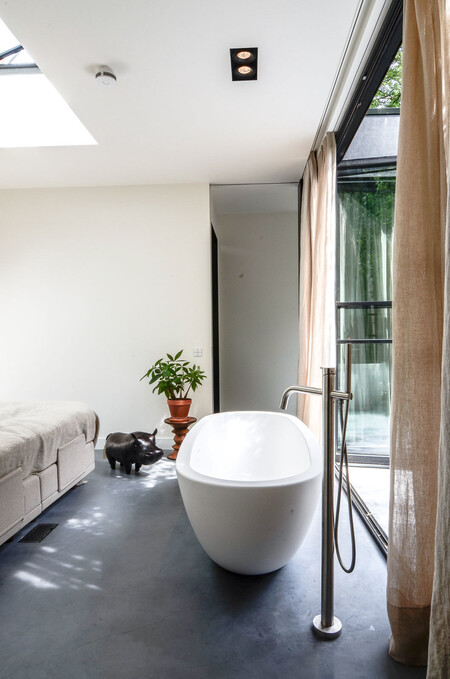 In the absence of a bathtub, your shower does not lack anything
No overhead sprinkler, no chromotherapy lights …
Mirrors with personality
The straight and large mirrors are replaced by pairs or a large one but with original shapes; round, irregular, rectangular with smooth edges …
Hanging lamps
The mirrors are accompanied by pendant lamps that complete the lighting of the washbasin in a correct way and also generate a beautiful composition.

The smooth walls, tiled or with wallpaper but better if they convey peace
OR the Japandi also in the bathroom. Whatever the coating or the absence of it, it is better if the final effect is calm to convey that desired spa feeling.
Custom colored or stone washbasins
The sinks better to measure and instead of white better imitating a natural stone (onyx, marble …). A way to create an impactful design taking advantage of the good performance and finishes of porcelain materials or imitation quartz.
Cover image The Room Studio project
Similar in Decoesfera | Bathrooms that inspire; the bathrooms of the boutique hotel Casa de Indias in Seville combine tradition with comfort and functionality
The ten best plants to live with in the bathroom