Our visit to the central facilities of Porcelanosa Group in Villarreal it has already become a classic at the end of January to participate in the International Exhibition of Global Architecture & Interior Design.
In the exhibition (which this year celebrates its twenty-seventh edition), Porcelanosa showed more than 12,000 professionals from 80 countries the news in terms of ceramic wall and floor tiles, bathroom and kitchen equipment or technical solutions for intelligent buildings that the firm will offer during 2020 .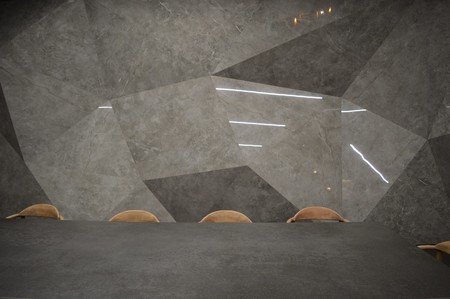 And without a doubt, The main protagonists of this year's edition are sustainability and energy efficiency, a common denominator that we could see in the eight firms that make up Porcelanosa Grupo.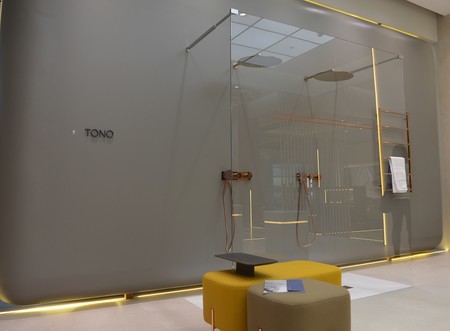 Among the data that corroborate that its commitment to sustainability is clear and not mere posturing, the report issued by the Ministry of Ecological Transition stands out that verifies that the company has lowered the emission of greenhouse gases by 27% since 2011 thanks to the changes made in the company's facilities and new technologies that have been constantly incorporated. In addition, in February they will plant 13,000 trees to repopulate 11 hectares to compensate for the emission of 2,000 tons of CO2.
More natural and durable textures
Within this commitment to sustainability, and under the EcoConscious program (the catalog that brings together the Group's sustainable products), Porcelanosa has incorporated two new collections, Bhutan and Steel. The first one is inspired by the image and the chromatic contrasts of cement. With a format of 100 cm x 100 cm for flooring (HIGHKER) and 45 cm x 120 cm for flooring, its three colors: Steel, Bone Y Silver, create unlimited stays with a sober and timeless design.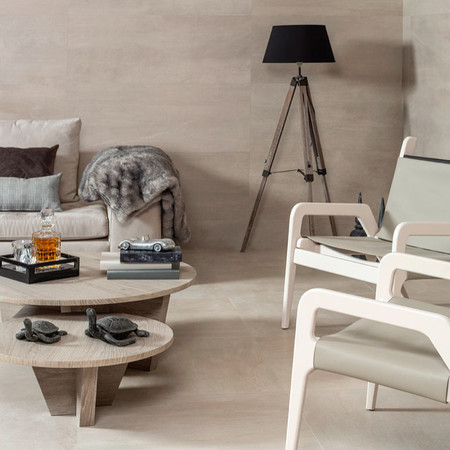 Steel He opts for the metal "sheet type" both in its pavement pieces (120 cm x 120 cm and 59.6 cm x 59.6 cm) and cladding (59.6 cm x 150 cm and 31.6 cm x 90 cm). Its four shades (Silver, Stone, Gray Y Bone) They combine the brightness and density of this material, improving it with a softer and wavy surface.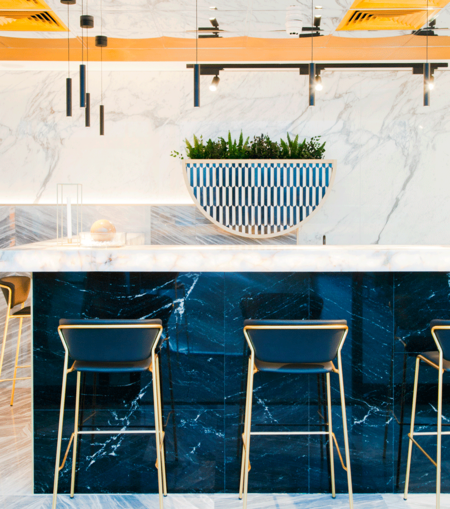 L'Antic Colonial has opted for this season with Altissima Stone, a series based on natural stone with a clean and refined cut. With 68 different references, these tables gather pieces of marble, onyx, granite, quartzite or limestone.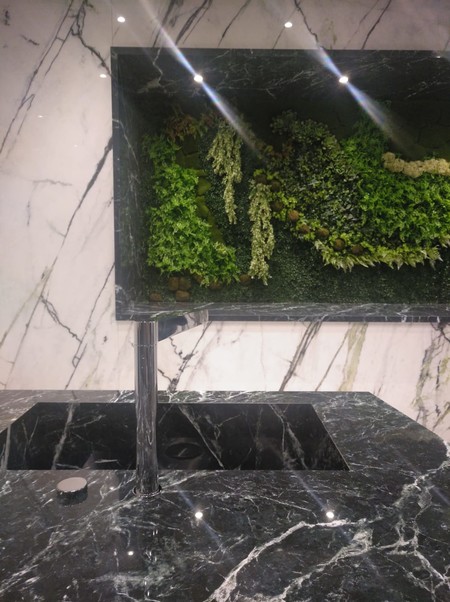 It also returns to the XTONE marble, the Urbatek sintered mineral compact. His three new series: Azul Macauba, Calacatta Green and Alpi Verde, they cover more consistent shades like the cobalt, dark green or light blue. Its wide variety of sizes and thicknesses allows these collections to be used as coverings and pavements, giving the spaces a more artistic air.
Venis has reformulated the use and aesthetics of natural stone with Verbier. This porcelain stoneware stands out for a continuous surface and with it the rooms seem unlimited, by unifying the same design both indoors and outdoors.
Sustainable well-being for spaces
In the Porcelanosa International Exhibition, Krion presented two novelties: Fitwall ™ Y Krion Shell®. The first product, ideal for both interior and exterior walls, has replaced much of the resins with minerals and natural pigments, and recreates volumes and textures of realistic designs in 9 models with different colors. As the use of this material does not require work, projects that decide to incorporate Fitwall™ they will acquire greater resistance to fire, water or solar radiation.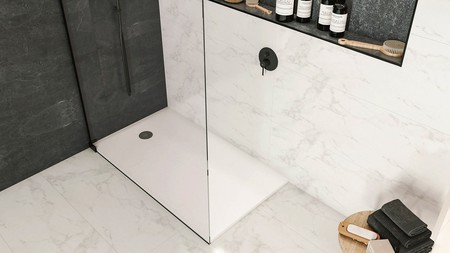 On the other hand, within the strategy of combating climate change and conserving the natural environment, Krion has developed Krion Shell®, a new material to develop sustainable toilets. This Engineered Mineral Composite consists of two parts. Mainly by minerals (dolomites) and recycled PET plastic, managing to include 5% recycled material in its composition.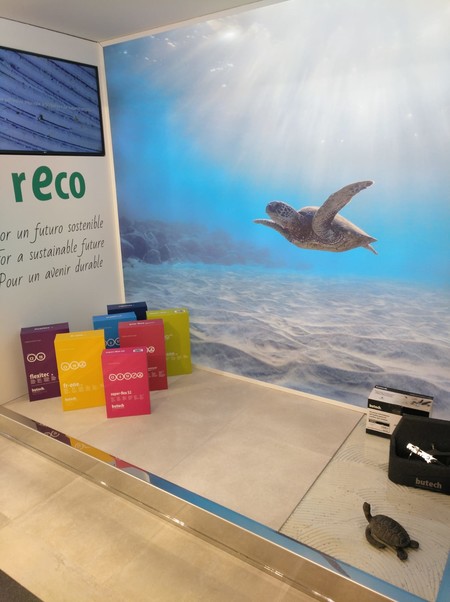 An ecological initiative that Butech joins with its new adhesive R Eco. Manufactured from recycled plastics, this material allows reuse 250 gr of plastic for each bag of adhesive (equivalent to 50 plastic bags) and can be installed on floor and wall tiles, thus reducing environmental pollution.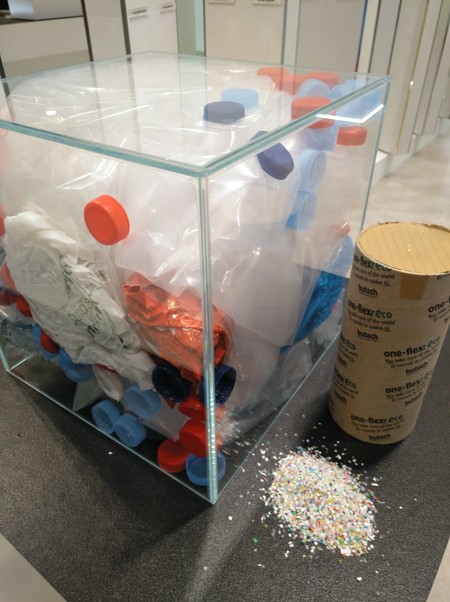 Bathrooms that reduce the ecological footprint
With regard to bathrooms, the firms Noken and Gamadecor propose as novelties for this season modular pieces with straight and balanced lines that are eco-responsible, with models such as the Madison bathroom furniture by Noken.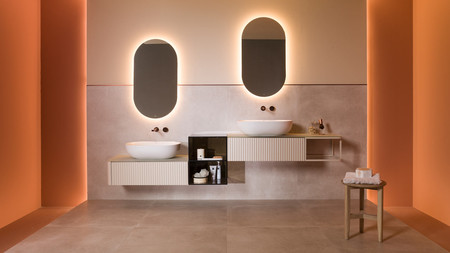 A suspended module of 80 cm with metal structure for towels and a curved corner supplement that has a push-type opening system.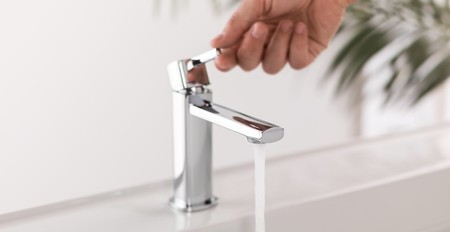 In Noken we could also know the ECO faucets, taps that allow 60% water savings by incorporating ECO-STAR technology that allows hot water to enter only when it is really needed, also having a flow limiter that reduces water consumption to a maximum of five liters per second
More information | Porcelanosa Group