Place a shelf above the toilet It may be the most aesthetically pleasing option (it is never necessary to draw attention to the toilet in a bathroom) but its practical side must be recognized, especially in very small bathrooms.
Marie Kondo had to arrive to show us that keeping the house tidy helps us to be happier but, when spaces are very small, keeping order is not a matter of happiness, it is a matter of genuine necessity.
The problem of lack of space in the bathrooms It is so common that there are more and more structures, trolleys and shelves specifically designed to get the most out of this space. And these options are very practical in rental houses or when you do not want to make holes in the tile of the bathroom walls.

By € 89 This wardrobe includes a practical closed upper area of ​​19 cm deep that keeps objects hidden.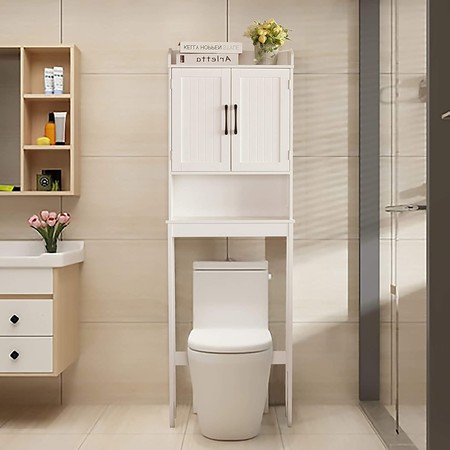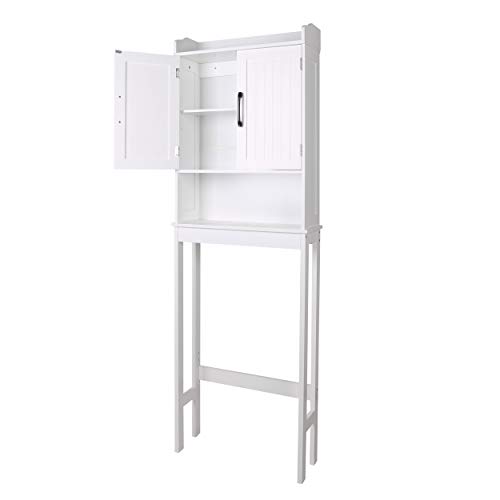 YOUKE Freestanding bathroom cabinets, Tall cabinets with 2 Doors, Multifunctional Bathroom Column Cabinet with Shelf, Modern Style White Wood Floor cabinet 57 x 19 x 170 cm
This bamboo bathroom shelf, includes two shelves, 173 x 66 x 25 cm, is discounted by 9%. Its previous price was € 42.99 and its price now € 38.99
Bathroom shelf, space saving shelf for washing machine, bamboo, with 2 shelves, 173 x 66 x 25 cm, Brown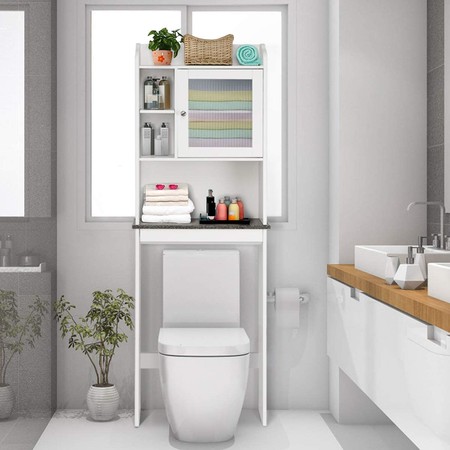 Very complete with COSTWAY showcase and shelf by € 99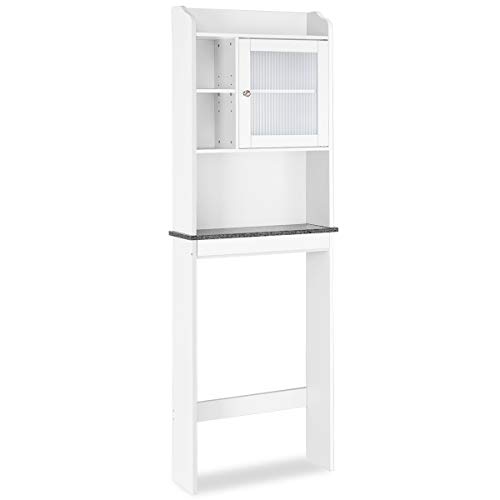 COSTWAY Wooden Toilet Shelf Bathroom Cabinet Tall Cabinet with 3 Shelves for Shower White
The best-selling model on Amazon is this one. Light, metallic and all open a shelf above white WC toilet, 153 x 63 x 25 cm € 19.99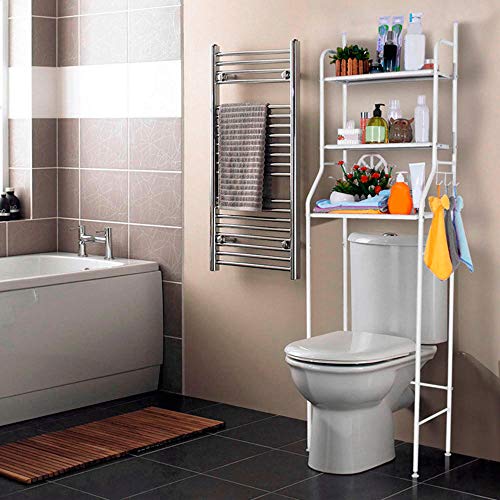 T-LoVendo 1 Shelf over Toilet WC Washing Machine Save Space Storage Bathroom, White, 153 x 63 x 25 cm
In a rustic style, this is the best-selling model on Etsy.com. and is priced at € 113.57
Over the Toilet Ladder Style Shelf / Storage Organizer Rustic
From EBTOOLS, the wooden storage rack with two shelves € 59.99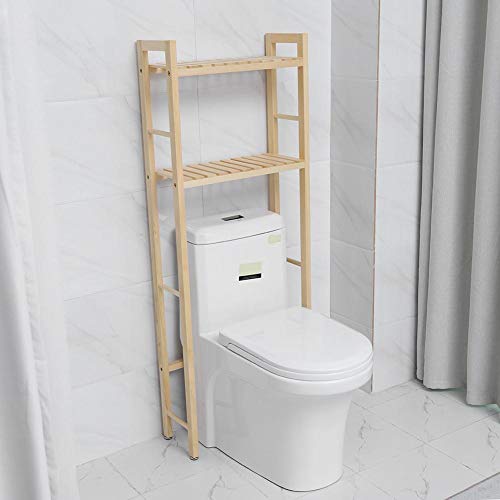 EBTOOLS 2 Tier Wooden Storage Shelf for Bathroom WC Above Toilet Compact Organizer Toilet
Similar to the previous one but made of pine wood and three shelves € 120.91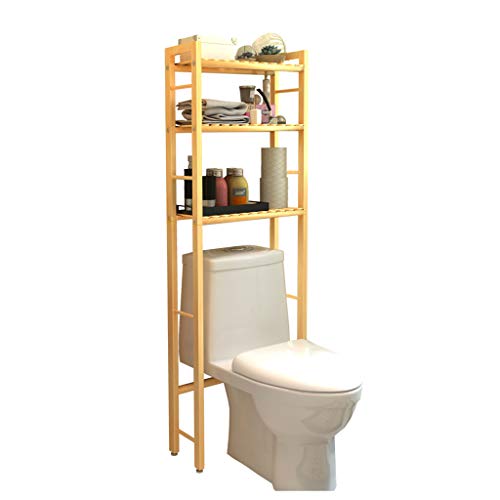 Pine Wood Shelves Over Toilet Bathroom Storage Shelf, Eco-Friendly Storage Shelf, Compact Toilet Bathroom Organizer
Storage rack for towels and other items on the toilet (Black) p € 37.99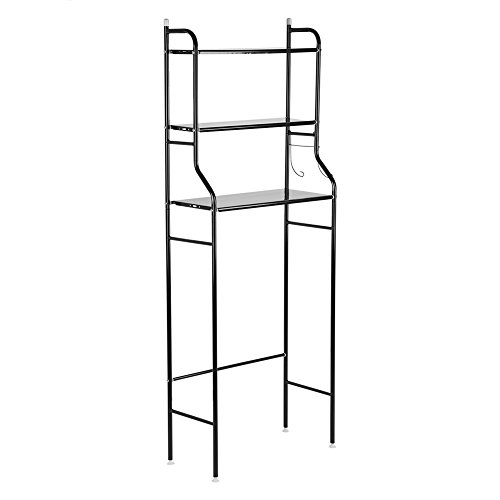 3-Layer Bath Towel Storage Rack, Bathroom Shelves Over Washer and Toilet (Black)
De Mano a Mano a practical pyramid-shaped shelf with a stable design. It has measures of 64x32x161 and has a 23% discount. Price before € 83 price now € 63
Toilet Shelf with 3 Shelves Bathroom Cabinet Shower Shelf 64x32x161 centimeters for Washing Machine or Toilet White Color
As in the previous photo, a ladder with the bottom rungs cut off can be a good solution to take advantage of the space above the toilet. This is made of bamboo (one of the most suitable woods for the bathroom) and is priced at € 27.99 on Amazon.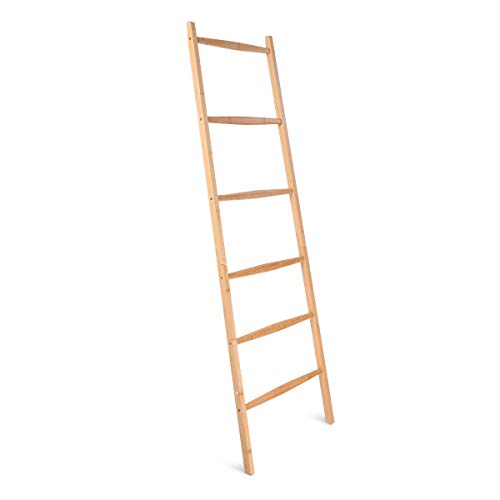 Navaris Bamboo towel rack ladder – Organizer rack with 6 rungs – Towel holder to rest on the Wall – Vintage standing towel rack – 1.7 M
Cover image Planete-deco.fr
Similar in Decoesfera | The most practical trend; open shelves or shelves in the bathroom
Mini shallow sinks for the bathroom that do not renounce design