The washbasin pieces adapt to all spaces, however small they may be. Designed to measure or as independent pieces, the sinks in recent times are lengthening but they lose centimeters of bottom to give us the same service in less space.
The bathrooms are one of the rooms in the house that has changed the most in recent years. Its size has been reduced and to adapt to its new dimensions we have eliminated the traditional bidet (Japanese toilets or toilets with faucets can do double duty without stealing space) and we have sacrificed the bottom of the sink but without sacrificing design.

So much so that now it is difficult for a sink to overcome the bottom 45 cms and if it does, the remoteness to the mirror seems strange and impractical to us when before it was usual.
When the space to locate the sink is very small and we must place it between columns or beams that hinder its design, the ideal is to do custom pieces.
If it is made of silestone porcelain material or even natural stone or marble, its price will be high (for more luxurious style bathrooms) but you can also custom-design a cabinet on a tighter budget if you use a wooden shelf or cabinet small on which to include a counter top sink.
Another option that is also valid is to use microcement, to finish off and finish a structure that should be flown if possible to lighten the space and that design and utility go hand in hand.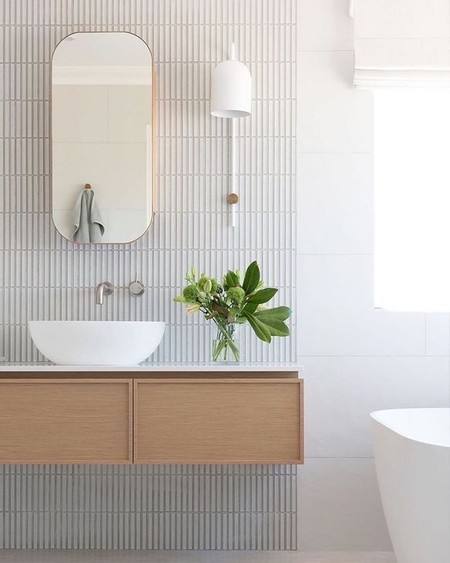 Shallow sinks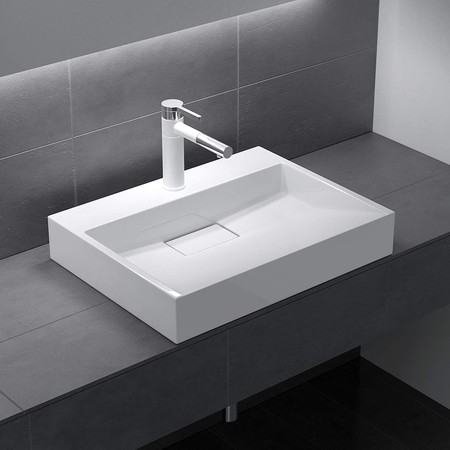 Counter top white washbasin 38 cm deep from by € 134.99 on Amazon.
Sogood: White Countertop Design Basin Colossum 19, 50 cm Wide | Sink with tap hole.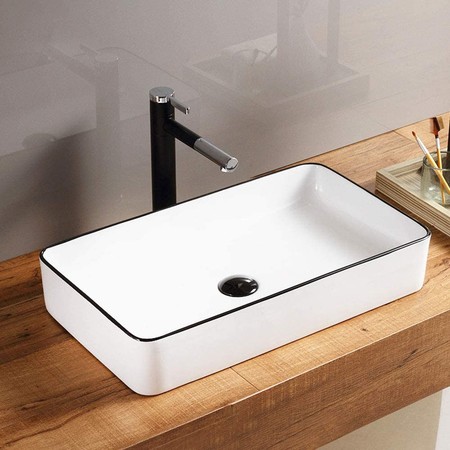 A shallow white basin but with a black profile for 200.99 euros.
HomeLava Counter Top Bathroom Sink Made of Ceramic with White Body Drain Valve Black Strip Edge (faucet not included) (60.5 * 35 * 11cm)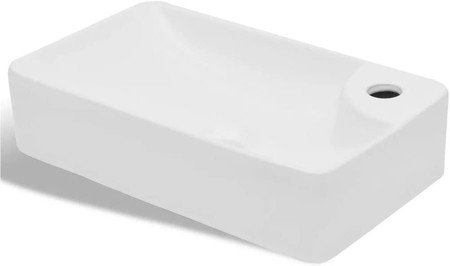 De vidaXL Round Bathroom basin on ceramic countertop in size with measures 440 (width) x 250 (depth) x 100 mm (height) by 62.39 euros.
vidaXL Round Ceramic Countertop Bathroom Sink White Toilet Sinks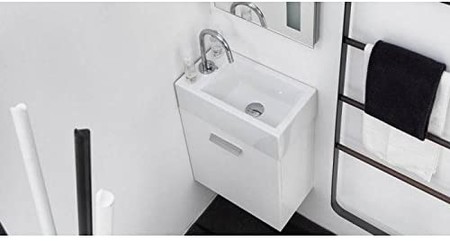 A 45×25 Mini DX basin model with wall-mounted cabinet and ceramic basin (includes siphon, drain, overflow, fixings, DX opening) in white € 284.20
Colavene – 45 x 25 Mini DX basin with wall-mounted cabinet and ceramic basin, siphon, drain, overflow, fixings, DX opening, white color

Cover image Bickerdesign.com
Similar in Decoesfera | Fifteen sinks to update and give new air to the bathroom
Ikea 2021 catalog preview: this is our selection of novelties for the bathroom