The collection The New Classic by Laufen has been presented exclusively in Spain in Casa Decor Madrid 2020 and can be seen between March 5 and April 19 in its building in Velázquez, 21. Agua, the space of this Swiss brand of high-end bathrooms, has been designed by SINMAS Studio, captained by Mateo Climent and Sigfrido Serra.
In Water, the protagonist is this valuable resource, along with The New Classic. This space is a back to nature, to enjoy the essence of life and value the importance of water for health, as well as the greater awareness of today's society with the environment. The design conveys the essence and values ​​of Laufen, among which the commitment to the environment, the use of technology to save energy and water, following an emotional, pure and precise design that combines quality and functionality.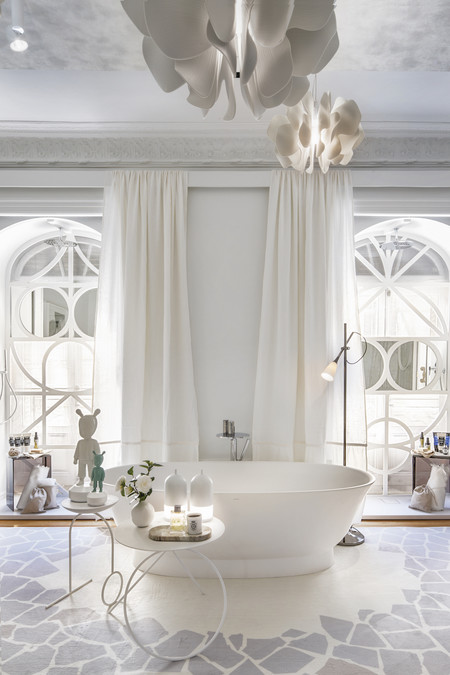 Dutch designer Marcel Wanders is the creator of The New Classic, an innovative collection characterized by soft and delicate curves that emulate the opening petals of a flower together with angular elements. Laufen commissioned this Dutch designer to create his latest collection in the wake of the excellent reputation he has acquired worldwide with his flamboyant style and innovative use of materials and technology.
Although inspired by classical forms, Wanders also wanted to adopt modern style combined with maximum functionality. His vision of neoclassicism, expressed here in The New Classic, maintains a constant focus on mime, intimacy, humanity, and everyday utility, while recalling poetry and romance from bygone days. The New Classic collection, which includes sinks, toilets, bidets, bathtubs, taps, mirrors, accessories and furniture, has been awarded the iF Design Award 2019 for its sensual combination of aesthetics and functionality and can be visited from September in the Showroom by Patricia Urquiola on Calle Covarrubias, 23 in Madrid.
More information | Laufen
In Decoesfera | "Sweet Camila", the elegant (and minimalist) proposal of Soledad Ordonez for Casa Decor 2020 and Enter, and immerse yourself in the fascinating atmosphere that Virginia Gasch has created in Casa Decor 2020