Maintain order throughout the house it's important but in the bathroom it is essential because it is generally one of the smallest rooms in the house. If every time you enter the bathroom you find the towels on the floor or the sink counter full of things, it will not matter how beautiful the bathroom is. Your design will be overshadowed by clutter.
Therefore, when designing the bathroom, do not neglect the most practical aspects. Where will the towels be hung / dried? Where will the toilet paper be placed? Is there room for creams, makeup, hair dryer? If we do not take all aspects into account, it will be easy for chaos to set up in the bathroom soon.

If you have been struggling with this for a long time and need more order and cleanliness in the bathroom (by the way, a good resolution for 2021), we are going to remind you of some keys to achieve it.
1.-If your countertop is full of things and you want it clear, try replacing the mirror with one with a closet
Like this so pretty from Made.com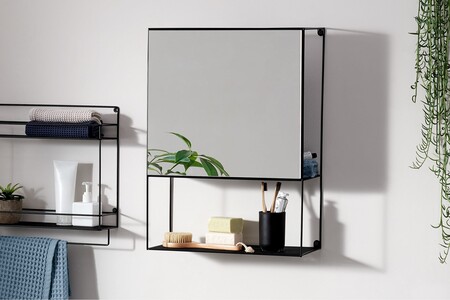 Made Calypso Mirror Shelf € 89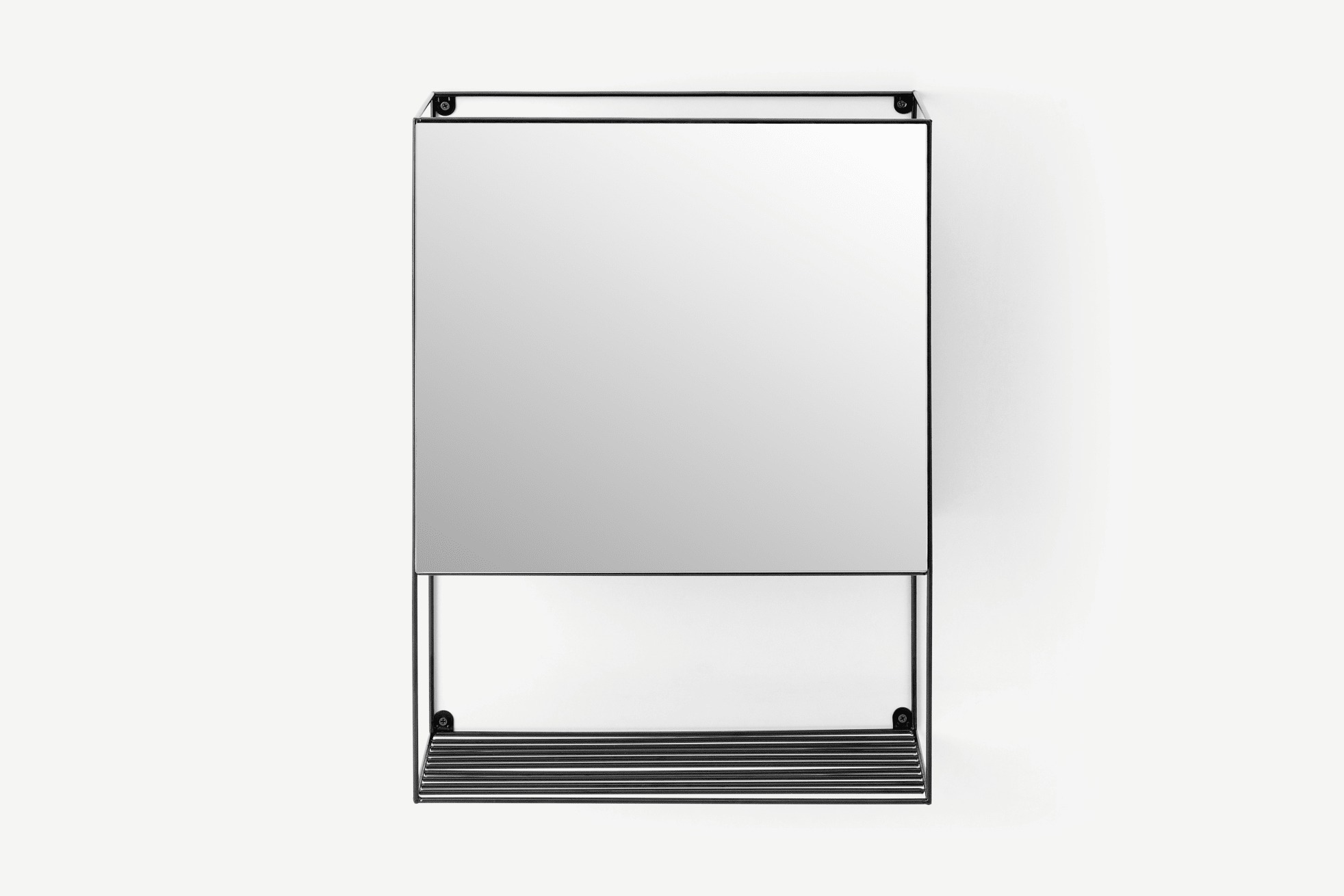 Calypso Calypso mirror shelf, black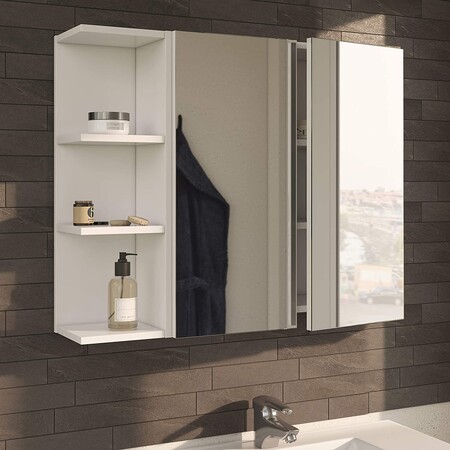 Or the classic dressing room closet. Available on Amazon, it measures 60 cm (Length) x 65 cm (Height) x 21 cm (Depth) € 62.75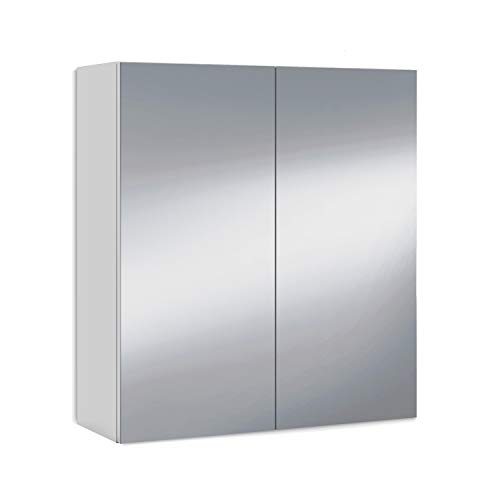 ARKITMOBEL 305083BO – Two-Door Dressing Room Cabinet for Bathroom, Module with Mirror and Shelves, Finished in Glossy White Color, Measurements: 60 cm (Length) x 65 cm (Height) x 21 cm (Depth)
2.- We continue to take advantage of the vertical space with more shelves
Which in this case can be on the toilet, under the mirror or in any free hole in the wall.
We are fans of these Ikea methacrylate. The 60 cm MELLÖSA shelf is originally designed to support paintings but it will look that beautiful in the bathroom € 13
MELLÖSA Picture shelf, transparent 60 cm
3.- Towel racks or hangers (or both) for stylishly tidy bathrooms
Many times the problem of order has its origin in that there are several users for a single bathroom and the towels accumulate in a bad way. For this, a good option is to replace the long bars with individual hangers or ladder-type towel racks.
Espa Espa bamboo towel rack, natural
Bran towel rack, black 29 €
In coat rack and sculptural format now with a discount. Price before € 59 and price now € 45
Bran 10 opinions Bran wall coat rack, copper
De Wopeite bathroom hanger (with or without drill) in Stainless Steel and classic aesthetics € 14.99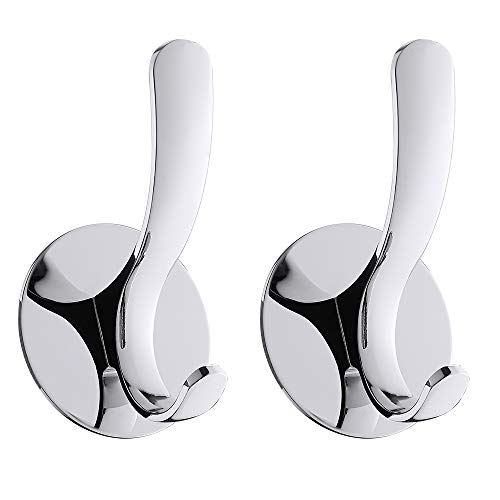 Wopeite Bathroom Hanger Without Drill Hook Towel Adhesive For Wall Bathroom Towel Racks Stainless Steel 2 Pieces Silver
4.- The tall cabinets to also give an extra capacity
You can give the small hole that the bidet used to occupy a tall closet in which you can even store towels and things with more volume.
Kuveni 25 x 100 cm solid teak wall bathroom cabinet € 247
Kuveni 25 x 100 cm solid teak wall bathroom cabinet
Standing, no need to hang up. De kleankin auxiliary cabinet for bathroom storage tall cabinet for bathroom with shelves and drawers 30x30x144.3 cm € 108.99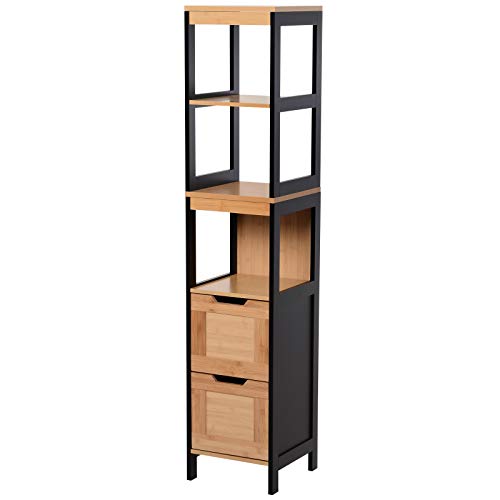 Kleankin Auxiliary Cabinet for Bathroom Storage Tall Cabinet for Bathroom with Shelves and Drawers 30x30x144.3 cm
5.- Nice boxes and baskets to keep order in the bathroom
Made of natural fibers, plastic or methacrylate. The boxes (large or small) are essential to maintain order in the bathroom.
La Jolie Muse recycled paper rope bathroom organizer baskets set 3 € 23.99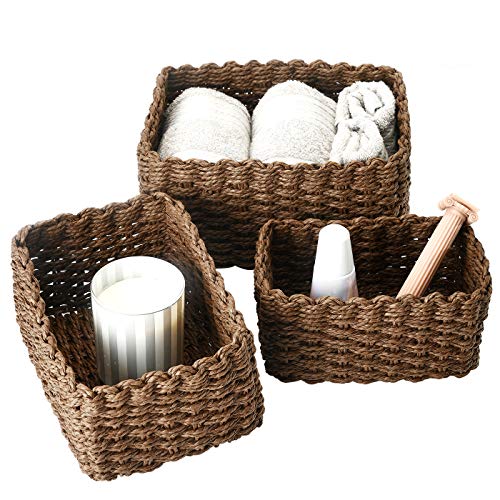 La Jolie Muse Storage Basket, Storage Box Set, Bathroom Towel Basket, Bathroom Organizer Baskets, Recycled Paper Rope Storage Box, Chocolate, Set 3
From MaoXinTek Plastic Storage Baskets (3 Pack) € 13.99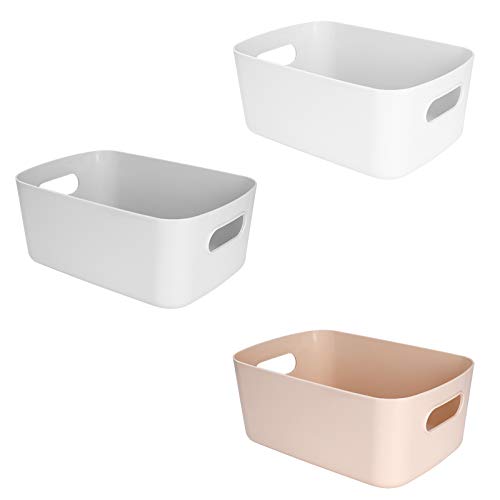 MaoXinTek Plastic Pantry Storage Basket, Hamper Organizer, Multi-Purpose Storage Small Container Bucket for Kitchen, Bathroom, Cosmetics (3 Pack)
From mDesign Makeup Organizer. Transparent box with 6 compartments € 13.59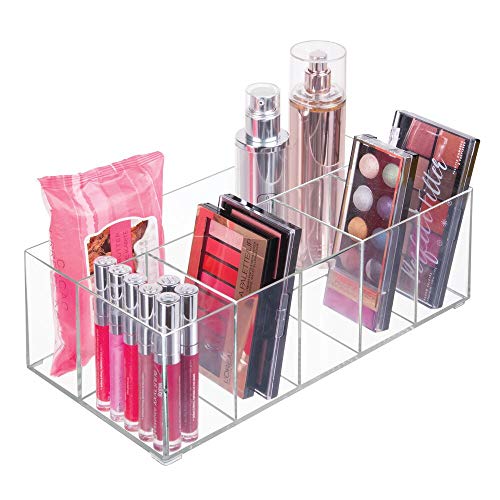 mDesign Makeup Organizer – Transparent box with 6 compartments – Ideal for storing makeup, cosmetics and beauty products – Transparent plastic
6.- Shelves for showers
In the absence of a practical niche built into the wall, shower shelves are essential to have a comfortable shower and a clear shower surface.
This model to hang from the screen is on the shelf side and on the outside, hangers for towels.
Chrome Hanging Shower Shelf 59.3 x 22.6 x 11cm Stainless Steel (Powder Coating) € 30.90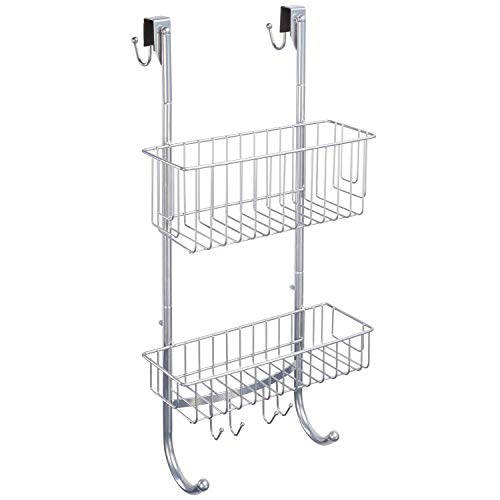 Chrome Hanging Shower Shelf – 2X Shower Shelf Levels -59.3×22.6x11cm- Stainless Steel (Powder Coating) – Undrilled Shower Shelf – Free: 2 Sticky Hooks! …
If you want a designer shelf for the shower, this Ferm Living model available on Amazon from € 57.44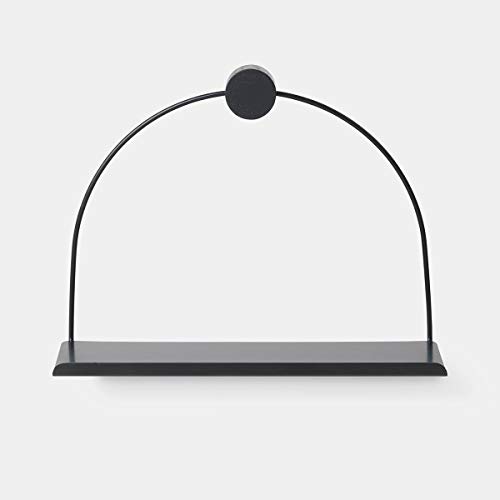 Ferm Living Bathroom Shelf black
Corner in black can be placed without drilling. Gricol undrilled aluminum shower shelf (Black) € 14.99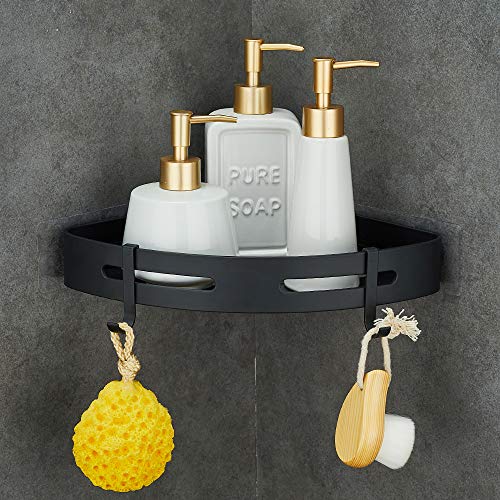 Gricol Non-Drilled Aeronautical Aluminum Shower Shelf Self-Adhesive Antioxidant Shelf for Bathroom Items (Black)
Portagel basket for stainless aluminum shower and bath faucets, without holes € 23.95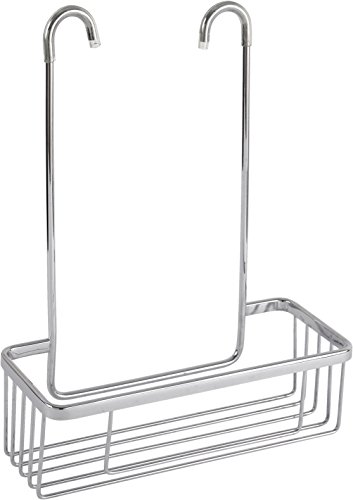 Portagel basket for stainless aluminum shower and bath faucets, without holes.
7.- Includes a cleaning kit in the bathroom to review the most used surfaces daily to keep it clean.
Housekeeping experts recommend having a box with the Basic Bathroom Cleaning Kit if possible in the bathroom. This way it will be more comfortable for you to clean it.
In a box (better not visible, you can include a scouring pad, two or three cloths (one specific for the glass, gloves and cleaning products you use for the bathroom. (They can be natural such as vinegar for cleaning or specific with or without bleach ..).
De mDesign refillable soap dispenser with scrubber holder € 14.99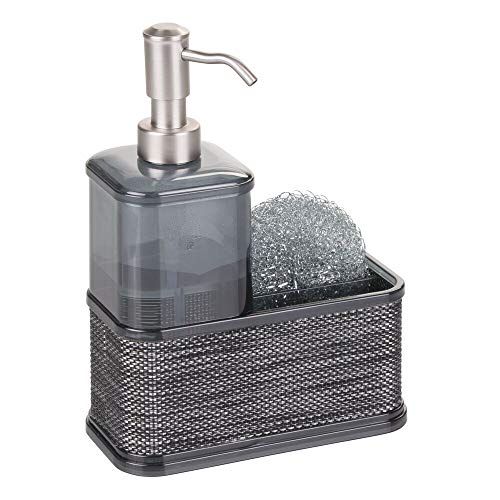 mDesign refillable soap dispenser – Soap dispenser made of durable plastic – With scrubber holder – Color: gray / black
8.- The screen is always clean
Especially in areas with a lot of lime, having the scraper to clean the screen while you shower is a plus.
Also mDesign set of 2 bathroom glass cleaners in white and bamboo handle with string to hang in the shower € 11.99
mDesign Bathroom Glass Cleaner Set of 2 – Handy Accessory for Cleaning Shower Screens or Windows – Bamboo Glass Cleaner with Hanging String – White / Natural
From WEISSENSTEIN Partition Glass Cleaner with Adhesive Wall Mount 25 x 17 x 3 cm € 21.97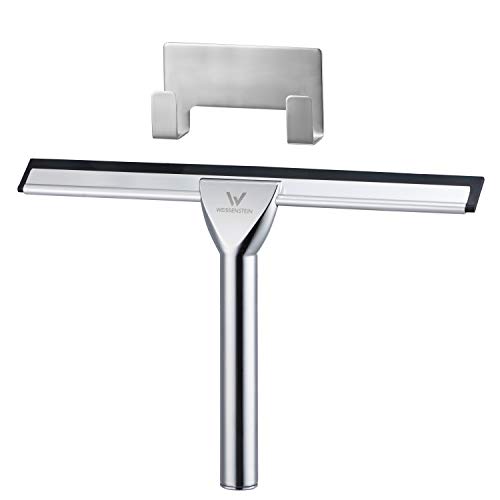 WEISSENSTEIN Shower screen glass cleaner | Shower Window Cleaning Scraper | Bathroom spatula with Adhesive Wall Support 25 x 17 x 3 cm
A more discreet model from Spirella Skate collection. Squeegee 7.3×29 cm € 9.99

Spirella Skate collection, Squeegee 7.3×29 cm, ABS / TPE, White
Cover image bathrooms_of_insta
Similar in Decoesfera | Trends in bathrooms; a review of the best trends we have seen in 2020 (take into account if you are going to renew the bathroom in 2021)