When we are going to furnish a bedroom, it may seem that choosing a mattress is the simplest and yet, with the variety of options that exist today, it is a task that can give us more of a headache. The materials with which mattresses are made have multiplied in recent years and although that is good, because it allows each one to find the mattress that best suits his body, his needs and his way of sleeping, forces us to a deeper analysis if we want hitting the mattress to help us sleep better.
In reality, there is no single type of mattress that is better than others in an objective way, because it is not something that depends only on the mattress, it will actually depend on the person: if it weighs more, if it weighs less, if it usually sleeps in one position or another. … Even the temperature in the house, if it is usually warm, if it is colder … There are a number of factors we can analyze to make a good decision when choosing a mattress and something very important is try it, to be sure that this is the one that is really comfortable for us. The one in the image is one of the mattresses preferred by most, combines pocket springs with memory foam and in 150×200 cm, from Amazon Basics it costs 216.60 euros.
Amazon Basics Memory Foam Gel Pocket Spring Mattress, 150 x 200cm
Firmness
There is a general idea that if the mattress is good it has to be hard and, although it is true that firmness is important, it is also not advisable for the mattress to be excessively firm. If the mattress is too hard it can be uncomfortable because it will not adapt in certain positions to the shape of our body and if it is too soft it will also be uncomfortable because we will sink into it. Now, a heavier person will need a firmer mattress than one that weighs little, hence there is no single firmness value that is always adequate … You have to analyze it on a case-by-case basis.
In the images we see two memory foam mattresses one of medium firmness Pikolin of 1.35 m for 289.99 euros and a firmer Dormio, also 1.35 m, for 109.35 euros.
PIKOLIN Memory foam mattress HR 135×190 Medium firmness, Reversible, Height 22cm – Sigeo Mattresses
Dormio Zafiro – Memory foam mattress, White, 135 x 190 x 21 cm
Materials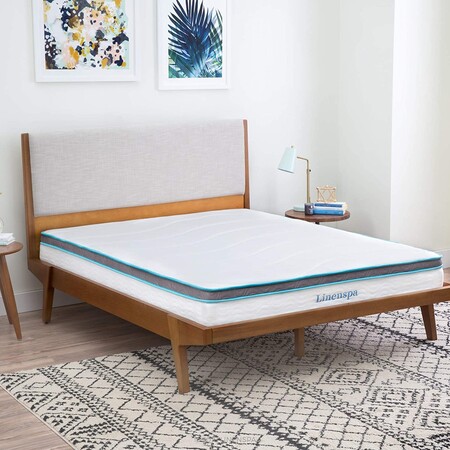 Closely related to firmness, but also to other mattress properties is the choice of material with which it is manufactured. In the past, mattresses used to be spring and there was not so much to choose from, but new materials such as latex or memory foam and polyurethane which may be a better option in some cases. Foam mattresses are usually less firm than spring mattresses, but at the same time they have more flexibility and are better for prevent allergiesThere is also a lot of variety depending on the density of the foam. Spring mattresses ventilate better and therefore are cooler at night … Also inside docks there are nowadays options of continuous spring, but also independent and bagged which are greatly improved versions of the spring mattress. On the other hand there is the price, the latex mattresses, very adequate in firmness and comfort, they are usually much more expensive.
In short, nothing is black or white, all materials have pros and cons and that is why nowadays mattresses are not usually made of a single material either, manufacturers combine one and the other to offer us the best of each of them in the same mattress. Thus, among the most demanded options is that of pocket springs combined with some type of foam, which has a good quality-price balance.
In the images we see a hybrid of memory foam and springs medium firmness for 130.99 euros and a hypoallergenic memory foam mattress with cover for 95.99 euros.
Linenspa – Memory foam and spring hybrid mattress, 20 cm, medium firm
Bedsure Topper Memory Foam 150x200x7cm Memory Foam Mattress – Antistatic Mattress Topper with 1 Removable and Washable Cover – Hypoallergenic Memory Foam Mattress Cover
Accessories and maintenance
As for the accessories, if we do not want to complicate ourselves, it is best to choose a slatted bed base, which fits with any type of mattress and a washable cover that we can remove and put on to ensure good hygiene. In addition, to guarantee good maintenance it is important ventilate well the bedroom, turn around to the mattress periodically (some have the option of winter side and summer side, more or less warm) and change the mattress after a maximum of 10 years of use.
In the images the Emma memory foam mattress which costs 279.30 euros in a size of 90×190 cm and a memory foam of Naturalex of durable flexibility of 150×190 cm for 239.69 euros.
Emma Original 90×190 | Viscoelastic Mattress | Test No. 1 in Spain | German Technology | 100 Trial Nights (All Measurements)
Naturalex | Titanium | Viscoelastic Mattress 150×190 Cm | High End 30 Cm Maximum Comfort | Lasting Flexibility | Premium Latex Memory Combination | Ideal Adaptability Maximum Airtex Breathability
Particular cases
In addition to topics that we have already discussed such as allergies, there may be other particular situations in which we are interested in a specific and special type of mattress for some reason … For example, orthopedic mattresses which may be advised in certain cases by medical recommendation, but which are not appropriate for general use.
The inflatable mattresses They can be an option for occasional use on trips or to receive guests and in the same line of exceptional use and space saving there are options such as folding or convertible foam mattresses that can have a double use of bed and sofa. They are not comfortable mattresses for daily use, but they can get us out of trouble at specific times when we need an extra bed.
Two examples of mattresses of particular interest that we see in the images are the orthopedic articulated bed mattress Ferlex that is already sold together and with wired control for 382.28 euros or the foam mattress that converts into both a bed and a sofa and that costs 169.99 euros.
Ferlex – Pack Electric articulated bed with Tencel visco orthopedic mattress (90×190, Cable Control)
Milliard- Foam Mattress and Sofa Bed Folding in Three Parts 11.5 cm Armchair Bed or mat – Double (190 x 135 cm)
Note: some of the links posted here are from affiliates. Despite this, none of the articles mentioned have been proposed by either the brands or the stores, their introduction being a unique decision of the team of editors.
In Decoesfera | Folding beds: the solution to save space at home now that we spend more time in it