The kitchen is an inexhaustible source of clutter. Drawers, cabinets, countertops … cans, pots and utensils accumulate many times without order, making our day to day difficult by making us waste a lot of time looking for ingredients or kitchen utensils.
To help you keep everything in order, we have prepared a complete selection of accessories that will help you to have everything in place, thus achieving a more beautiful kitchen, and also more functional.
Spices in sight (and ordered)
In front of the cabinets full of jars of spaces placed haphazardly, we propose these spice racks to have all your ingredients in view, and in perfect order.
Spice organizer. Price on Amazon: € 19.99.
mDesign Spice Organizer – Handy 4 Tier Plastic Cabinet Organizer Stand – Spice Racks for Storing Condiments and Other Packaged Foods – Transparent
Metal shelves for spices with three shelves. Price: € 14.44.
mDesign AFFIXX Self Adhesive Kitchen Spice Rack – Metal Spice Racks with Three Shelves – Handy Silver Color Spice Organizer – Metal
Revolving stainless steel kitchen spice rack for 12 cans. Price on Amazon: € 24.95.
NATURAL LOGISTICS Stainless Steel Swivel Kitchen Spice Rack (12 Bottles). Kitchen Organizer with Spice Jars Included. Metal Shelving for Accessories, Kitchen Cans. Kottao
Drawers in order
It's maddening to open a drawer and have everything mixed up. It does not matter if it is a drawer to store cutlery, dishes, cloths, or utensils. Take advantage of all order complements that we can find so that everything is in its place.
Extendable drawer organizer for cutlery. Price: € 26.99.
Artisware Bamboo Extendable Drawer Organizer, Cutlery and Utensil Tray (7 Expandable Compartments)
Set of 4 bamboo organizer boxes for the kitchen. Price: € 22.99.
mDesign Kitchen Organizer Box Set of 4 – Rectangular Bamboo Storage Box for Drawers – Stackable Wooden Organizer for Storage of Cutlery and Kitchen Utensils – Natural Color
Adjustable kitchen drawer dividers. Price on Amazon: € 42.70.
Adjustable Kitchen Drawer Dividers, Elegant Modular Aluminum Organizer, Set of 9 Dividers (Medium | for Drawers 44.5 cm – 50 cm long) by Practical Comfort
Optimize your cabinets with various heights, hooks …
Although it seems that your cabinets do not give more of themselves, there are always solutions to expand storage space. For example, you can add extra kitchen shelves, or holders for hanging cups.
Extendable and stackable kitchen shelves. Price on Amazon: € 18.98.
mDesign Kitchen shelf for kitchen cabinets – Practical adjustable metal shelf to create more storage space for dishes – Extendable and stackable kitchen shelves – black
Metaltex Corner, Silver, White, 3 heights. Price on Amazon: € 16.52.
Metaltex Corner, Silver, White, 3 levels
Kitchen hanger for 10 cups. Price on Amazon: € 12.15.
Metaltex MY-MUG Kitchen hanger for 10 cups, silver, 28 x 14 x 6 cm
The countertops, always clear
If you have a counter full of things and utensils, the feeling of clutter in the kitchen will be impossible to fix. Leave just enough, a coffee maker, a dispenser for the capsules, a vase with some flowers … the rest, to the cabinets and drawers. And if you see that something you do not use, you have to get rid of it.
Rotating bamboo dispenser to store 80 Nespresso coffee capsules. Price on Amazon: € 29.99.
Navaris Coffee Capsule Holder – Rotating Bamboo Dispenser to store 80x Nespresso Lavazza Bialetti Tassimo coffee capsule
Dispenser for 40 Nespresso coffee capsules, with upper tray to put the coffee maker. Price on Amazon: € 19.99.
Homiso Coffee Dispenser Capsules, Nespresso compatible, 40 Porta Capsules
Pots, lids and pans, well placed
I do not know about you, but there is nothing that unhinges me more than going to take out a pan, and they all stir (or even fall).
Supports for pots and pans. Price on Amazon: € 21.99.
ANNGY Shelves and Holders for pots and pans
Support for pans, lids and saucepans. Price on Amazon: € 13.66.
mDesign Holder for pans, lids and saucepans – Compact pot lid organizer for kitchen cabinets – Metal utensil shelf – Space saving – graphite color
Skillet on three levels. Price on Amazon: € 14.86.
Metaltex Sierra Sartenero 4 Heights, White, 25 X 27 x 23 cm
Auxiliary furniture
If you have a space, you can add a small trolley to your kitchen, a waitress … they will help you increase the storage area of ​​your kitchen.
Waitress with 3 shelves, handles and swivel wheels. Price on Amazon: € 64.90.
Relaxdays Waitress with 3 Shelves, Handles and 360º Rotating Wheels, Metal, Brown and Black, 70 x 49 x 28 cm
White kitchen trolley, with drawers, shelves and bottle rack. Price on Amazon: € 88.66.
Versa 15810410 Kitchen Cart, Metal, White, 82 x 40 x 76 cm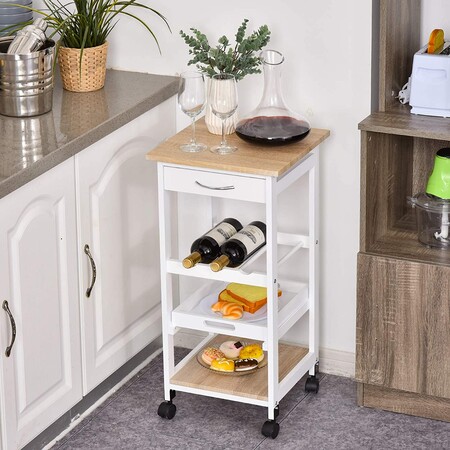 Kitchen trolley with 4-tier serving trolley with swivel wheels, drawer and bottle rack. Price on Amazon: € 51.99.
HOMCOM Kitchen Cart 4 Tier Service Cart with Swivel Wheels Drawer Shelves Bottle Storage for Kitchen Living Room Dining Room 37x37x76 cm White
Order in the cupboard under the sink
Without a doubt, having the cupboard that we all have under the sink in order is one of the biggest challenges in any kitchen. And it is that ordering sponges, cloths and cleaning supplies is not always easy.
Modular shelving with 2 levels for interior cabinets and furniture. Price: € 19.90.
Modular shelving with 2 levels for interior cabinets and furniture (50x70x40 cm)
Organizer with wheels for base cabinets. Price on Amazon: € 17.99.
Use Family. Storage Baskets Cleaning Products with wheels | Under Sink Cabinet Organizer | kitchen organizer accessories | Pack of 2 | Made with Recyclable Material
Kitchen shelf under sink in stainless steel. Price on Amazon: € 27.99.
HOMFA Under Sink Storage with 2 Multifunctional Shelves Stainless Steel Under Sink Kitchen Shelf Adjustable Size 47-76 x 29 x 38 cm
And the tappers?
Another of the cesspools of any kitchen is the place where we keep tappers. In addition to the drawer organizers, the most effective is that you keep the tappers of the same size one inside the other. And the covers can go in another separate organizer.
Set of 8 airtight containers. Price on Amazon: € 19.99.
DEIK Lunch Boxes, Food Containers, Airtight Container Set, 8 Pieces, BPA Free, Dishwasher Safe, Freezer Safe, Assorted Sizes, Transparent Color
In Decoesfera | Having a nice kitchen in order is possible with these proposals from H&M Home