This occasional furniture may seem like a secondary piece compared to other furniture such as the dining table. But if you analyze how many times you use the dining table per week, or per month, and how many times you use the coffee table, the balance in favor of the latter is evident.
To choose the coffee table that best suits our living room, it is important to take into account several variables that we are going to review with you if you continue reading.
Choose the right size
It may seem like a no-brainer to match the coffee table to the available space. But we assure you that it is a mistake that is made quite often. Surely you remember a house in which in the space between the sofa and the television cabinet there was a too large table that took up much of the space, or vice versa. Too tiny a table, on which you could hardly lean anything.
Oak wood coffee table. Price on Amazon: 63.79 euros.
MEUBLE COZY, Table Basse Design Moderne, Wood, Oak, 110 X 60 X 34 Cm
The secret is to adjust to the available space, ensuring a safe passage area (between 40 and 50 cm around), preventing the table from eating up the room, or precisely the other way around, from getting lost among the rest of the furniture. Measure well, and look for a size that allows the table to be perfectly integrated.
Also think about the use you are going to give it: it will depend on the number of family members, if you are going to use it for lunch and dinner in front of the television … everything influences when choosing a table, or another. The nesting tables They are a great option to make compositions, give movement and dynamism to the space, and incidentally, be able to group them and leave them collected when you are not using them.
Nest coffee table. Price: before, 349 euros, current price: 229 euros.
Also think if you want use the table as storage space, since there are tables that have shelves, or even drawers.
Be careful with the height
When it comes to height, it is best if the coffee tables are low. This will prevent them from having too much visual impact, and in addition, you will also make it more comfortable and functional for when you are sitting on the sofa.
The rule of thumb is to get the table to be the same height as the sofa, or even a little lower. If you need a higher table, because you telework on it, or because you dine or eat, you can always opt for a lift table (399 euros).
Choose the material
The material is another aspect that you must take into account when choosing your coffee table. If you choose a glass table, or another transparent material, you will be able to visually lighten the room. If you want to achieve that effect, also look for stylized tables, with thin, elongated legs, and without frills.
Vintage oak and grid coffee table. Price: before, 299 euros, and now, after the 30% discount, it costs 209 euros.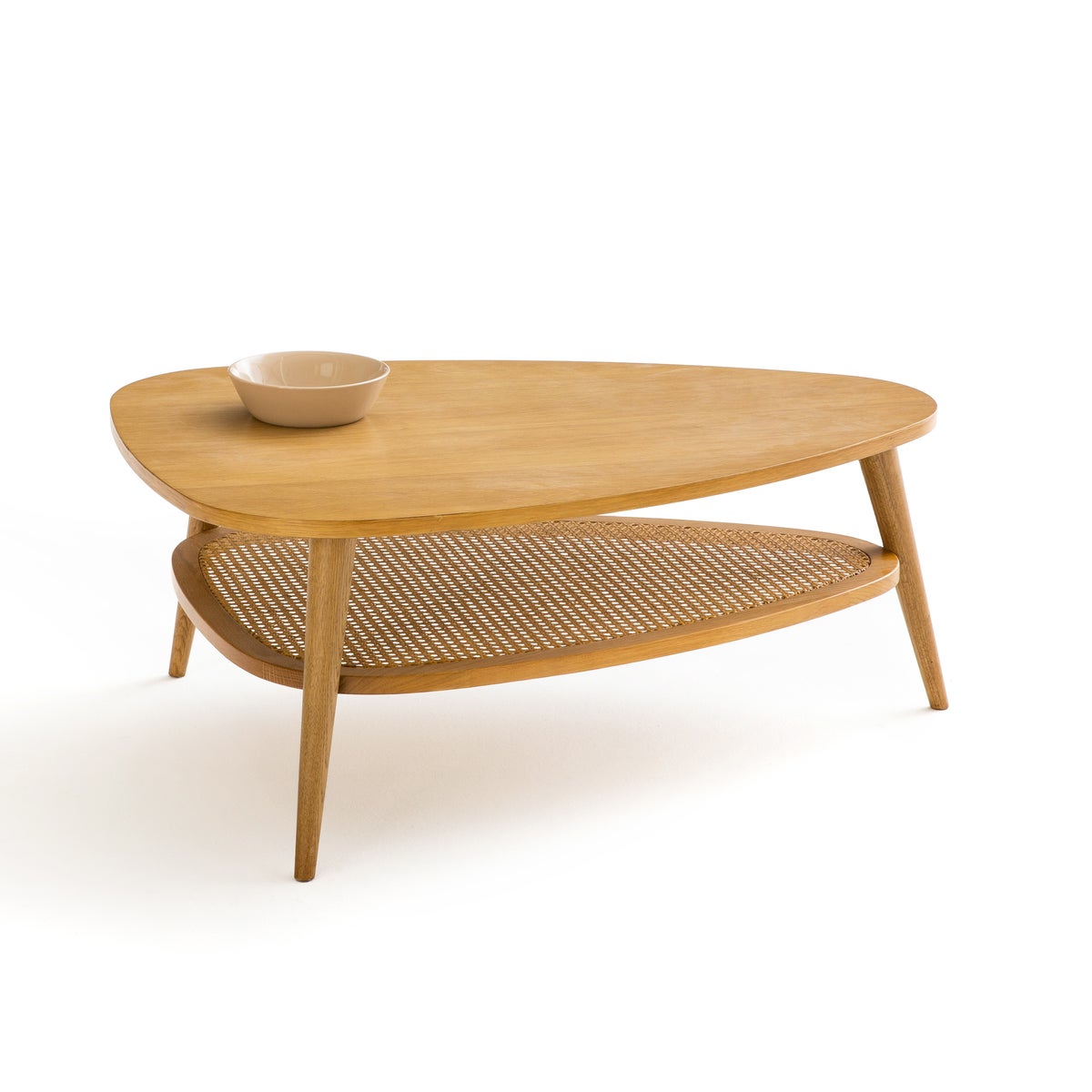 Wood and glass tables are a safe bet, because they fit into multiple environments. And tables made of noble materials such as marble, provide a sophisticated touch, while tables with natural materials such as wicker give a fresh and comfortable look.
If there are children at home, it is important decide on rounded corners, and avoid materials that could break and cause an accident, such as glass.
Oval coffee table. Price on Amazon: 62.99 euros.
Blackzebra Oval Coffee Table Coffee Table Side Table Living Room Low Dining Table for Bedroom Office Meeting Room Wood White 98x60x41cm
And the shape?
To choose the shape, the style you want to give the room will depend a lot, and also the space. The most normal thing is that it is rectangular, or square. But in many houses circular or oval tables are also installed (they make the space more friendly by avoiding edges and straight lines), or nesting tables, to make compositions and make the most of the space.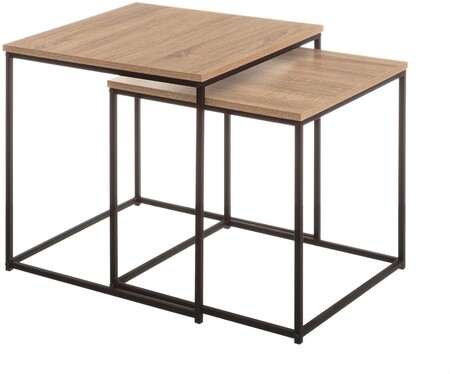 Amazon nest table: 51.95 euros.
Set of 2 Black Modern Wooden Side Tables – LOLAhome
Nordic style side table set. Price on Amazon: 69.90 euros.
COMIFORT Side Tables Set – Nordic, Modern and Minimalist Style Nesting Tables, Very Resistant, Set of 2 Triangular Pieces, White Color and 100% Natural Beech
Coffee table with storage. Price on Amazon: 59.98 euros.
MEUBLE COZY, Table Basse Design Moderne, Wood, Oak, 110 X 60 X 34 Cm
In Decoesfera | 14 coffee tables from Ikea, El Corte Inglés, Amazon and La Redoute for less than 100, 200, 300 and 400 euros
Note: some of the links posted here are from affiliates. Despite this, none of the articles mentioned have been proposed either by the brands or by the stores, their introduction being a unique decision of the team of editors.