One of the keys to having a nice bathroom and stylish it is take care of all the details, which includes lights. The lighting in a bathroom It is divided into two or even three zones, because now the recessed spotlights and LED luminaires are also watertight and can be inside the shower and / or bathtub area, so that they have their own lighting.
But the most normal or at least the conventional thing is that a bathroom has two types of lighting. The general one, which consists of a downlight that gives light to the entire bathroom and, a second specific lighting zone for the washbasin area. And it is that in the sink we wash, comb, make up or shave (depending on what it touches) and it is very necessary that this area is very well lit.

The interior designer Natalia Zubizarreta opts for classic and timeless wall lights for this bathroom.
The wall lights to illuminate the upper and lateral area of ​​the mirrors fulfill this function of completing the lighting of the washbasin, – (if you have upper lateral lighting, no shadows will be generated when looking at the mirror) -, and in addition to this function they can be a key element in bathroom decoration.
In small sinks you can place a single side wall light, as in the image above.
Because there is life beyond the wall lamp only intended for the bathroom, the trend is use pretty sconces that complement the bathroom decor. Like these.
Ideal to place as a couple, framing a mirror this wall lamp. This gold aluminum led wall light is from Hfienfh-lamp and is priced at 69.99 euros
For those who love the classic and timeless style, these Ledkia Lighting wall lights with flexible aluminum arm and white lampshade for 30.75 euros
LEDKIA LIGHTING Ugani Wall Lamp 305x180x440 mm White E27 Fat Cap Decoration Living Room, Room, Bedroom
With straight and classic shapes but very fresh and trendy thanks to the cannage. It's from La Redoute and now has a 30% discount – Normal price € 79.99 and price now 55.99 euros
Metal wall light and grid, Cara
To place on the mirror, this beautiful gold brass wall lamp and opaline lampshades is double but only requires one point of light, for those who want to change their wall lamp on the mirror. Also La Redoute with a 30% discount. Normal price € 119.00 and now 82.99 euros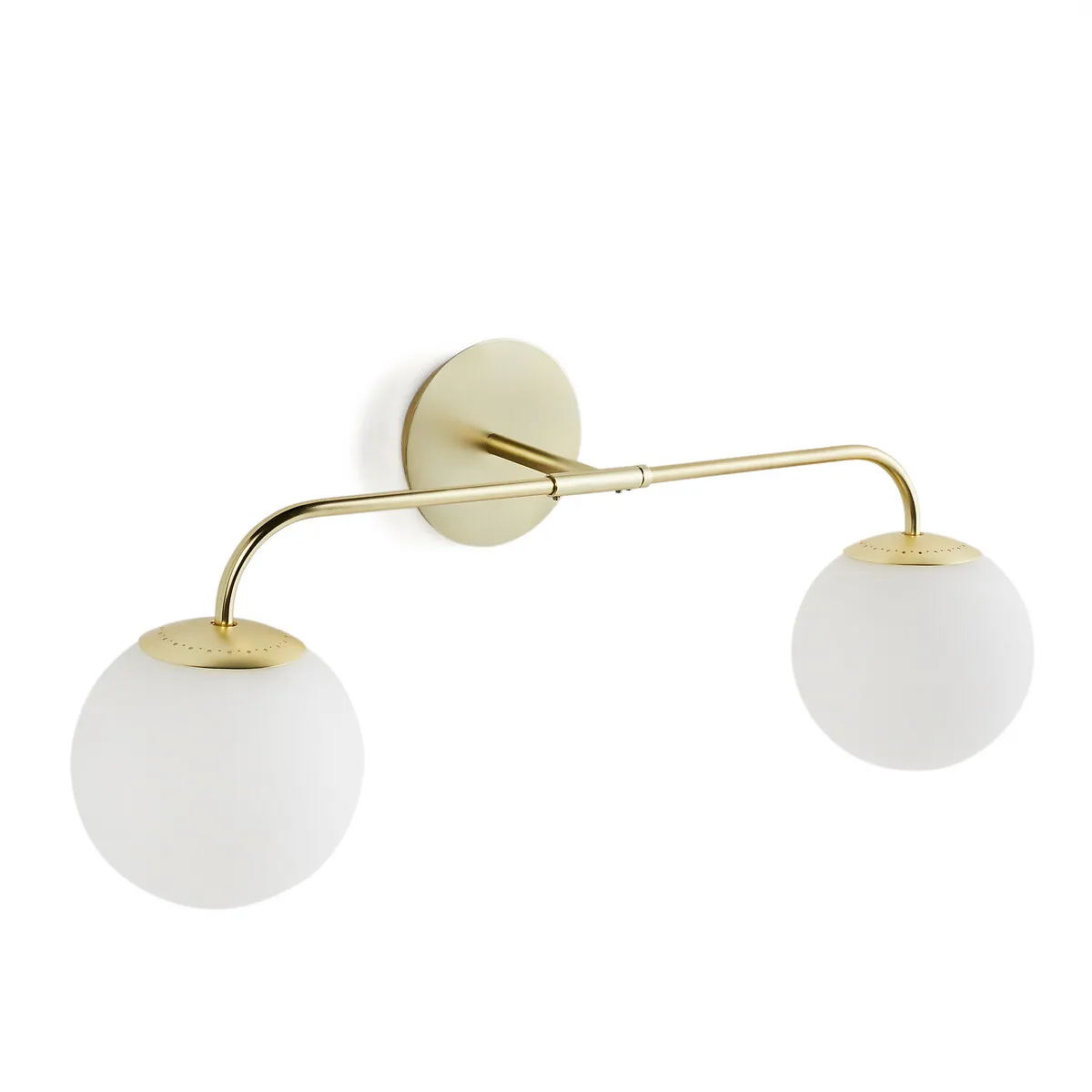 Brass and opaline double arm wall light, Moricio
Similar to the one in the third image, to be placed on or to the sides of the mirror, this El Corte Inglés wall lamp is discreet and timeless and has a price of 29.95 euros
Gibson El Corte Inglés wall light
To put the always warm touch of wood, this wall light from Kave Home is perfect. It is the Orsen model in beech wood and steel with a white finish. Normal price 45 € and now 38.25 euros
Orsen Wall Lamp Orsen in beech wood and steel with white finish
The industrial style bathrooms; (in white, black and if possible with subway tiles) they have the Offelis wall light by Kave Home, in steel with a black finish for 45 euros
Wall light Offelis in steel with black finish
Well understood minimalism in this wall light from Made.com. Vetro model in white, (also available in black) for 55 euros
Bathroom wall light, Vetro white
Appliques that mix black and brushed brass also from Made.com for 55 euros.
Siren bathroom wall light, black and brushed brass
Note: some of the links posted here are from affiliates. Despite this, none of the articles mentioned have been proposed either by the brands or by the stores, their introduction being a unique decision of the team of editors.
Similar in Decoesfera |Seven Discounted Sink Cabinets To Renew The Look And Usefulness Of The Bathroom
Basic and essential textiles: the best-selling 100% cotton towel sets on Amazon for less than 25 euros